Investing.com - U.S. stocks ended the week higher on Friday, with the benchmark Standard & Poor's 500 Index closing above 1,500 for the first time in five years as earnings largely exceeded expectations and recent data indicated that the U.S. economic recovery is strengthening.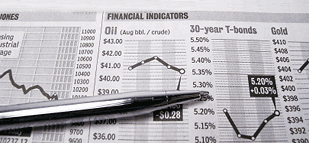 The Dow Jones industrial average moved closer to record highs hit in October 2007, as largely positive fourth quarter earnings and the easing of concerns over the U.S. fiscal cliff bolstered investor confidence.
The Dow advanced 1.8% for the week, while the S&P 500 climbed 1.1% and the Nasdaq rose 0.5%.
In earnings news, Netflix shares extended a rally in to a second day on Friday after a larger than expected increase in quarterly subscriptions, jumping 15.46%.
Procter and Gamble was the strongest performer on the Dow on Friday, rising 4.02% after the company raised its 2013 profit forecast and posted quarterly earnings that beat analysts' estimates.
Apple shares dropped 12% on Thursday after quarterly earnings results disappointed expectations and fuelled concerns over slowing growth in the smartphone market.
On Friday, Exxon Mobil overtook Apple as the world's most valuable company by market capitalization. Exxon's market cap increased to over USD418 billion, while Apple's declined to approximately USD413 billion.
In Europe, markets were broadly higher at Friday's close, with the Stoxx Europe 600 up 0.3%, the highest close since February 2011.
Elsewhere, Japan's Nikkei edged up 0.1% for the week, its 11th consecutive weekly gain and the longest streak since 1986. Australia's S&P/ASX 200 rose 0.5% to its highest since April 2011 and was1.3% higher on the week.
In the coming week, market participants will be anticipating earnings from Caterpillar, Amazon, Pfizer and Ford Motors. Markets will also be awaiting Friday's U.S. nonfarm payrolls data as investors attempt to gauge the strength of the U.S. recovery.