Investing.com - The U.S. dollar is again trading higher against the Japanese yen during Wednesday's Asian session as traders are speculating more monetary easing could be imminent from the Bank of Japan.
In Asian trading Wednesday,
USD/JPY
rose 0.21% to 94.65 after earlier trading as high as 94.70. The pair was likely to find support at 93.01, the low of March 6 and resistance at 95.06, the high of March 22.
The yen remained under pressure after the new BoJ Governor, Haruhiko Kuroda, reaffirmed his commitment to bold monetary easing to achieve 2% inflation.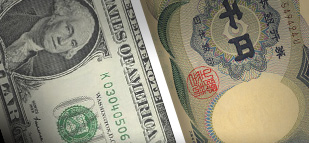 In comments before parliament, Kuroda said the central bank will discuss purchasing more bonds with longer maturities. The BoJ currently buys government debt maturing in three years or less through its JPY76 trillion asset-purchase program.
The yen was also under pressure after the greenback got a lift from some decent U.S. data. The Commerce Department said durable goods orders rose 5.7% in February after falling 3.8% in January. Economists expected a February increase of 4.9%. Core orders fell 0.5%. Economists expected a core increase of 0.5%. The Commerce Department also said new home sales fell 4.6% last month to seasonally-adjusted rate of 411,000, but rose 12.3% on a year-over-year basis.
The S&P/Case Shiller composite index of home prices in 20 metro areas rose 0.9% in December on a seasonally-adjusted basis. On a non-adjusted basis, the index rose 0.2%. Economists expected a seasonally-adjusted increase of 0.5%.
BoJ meets early next month and has the potential to make traders very happy or quite disappointed with ensuing comments on monetary easing. Kuroda has previously spoken openly about doing more to weaken the yen.
Elsewhere,
EUR/JPY
gained 0.24% to 121.77 while
AUD/JPY
added 0.08% to 99.13.
NZD/JPY
rose 0.16% to 79.39.