Investing.com - The euro's recent rally against the dollar stalled on Wednesday at 1.3782, a 4-day high, ahead of the release of a slew of key U.S. economic data and the minutes of a Federal Reserve committee's meeting.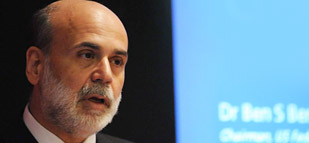 EUR/USD subsequently slid to 1.3741 shortly before the European trading session, shedding 0.22%. The pair was likely to find support at 1.3531, Friday's low, and resistance at 1.3782.
The euro also weakened slightly against the pound and yen: EUR/GBP shed 0.02% to hit 0.8718 and EUR/JPY dropped 0.1% to reach 124.03.
Later Wednesday, the United States was set to publish data on housing starts, building permits, import prices and industrial production.
In addition, the Fed was due to publish the minutes of its Open Market Committee's most recent meeting, and the U.S. Treasury was set to announce the federal budget balance.