Investing.com - The euro plunged against the U.S. dollar Thursday, after European Central Bank President Mario Draghi slashed economic growth forecasts.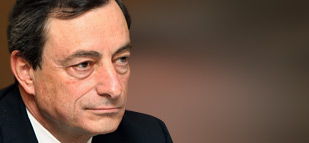 EUR/USD
 plunged to 1.2968 falling 0.77% on the session
Starting the selloff in the single currency, the ECB now expects the euro zone economy to contract by between 0.4% and 0.6% this year and to shrink by 0.3% to 0.9% in 2013. The ECB expects the euro zone economy to return to growth only in 2014, expanding between 0.2% and 2.2%.
The central bank also cut the inflation outlook to 2.5% in 2012 and 1.1% to 2.1% in 2013.
Final data on Thursday showed that the euro zone economy contracted by 0.1% in the third quarter, unchanged from the preliminary estimate and confirming a recession after a 0.2% contraction in the previous quarter.
The ECB left rates unchanged at 0.75% earlier Thursday, in a widely expected decision.
Mr. Draghi also said that the implementation of a supervisory mechanism for banks is a "crucial move towards reintegrating the banking system". 
The euro turned lower against the pound, with 
EUR/GBP
 sliding 0.31% to 0.8092 and moved further back from eight-month highs against the yen, with 
EUR/JPY
 down 0.36% to 107.36.
In the U.S., the Department of Labor said the number of people who filed for unemployment assistance last week fell to 370,000 from 395,000 in the previous week, better than analysts' forecasts for a decline to 380,000.
Jobless claims for the preceding week were revised up to 395,000 from a previously reported 393,000.