Investing.com - The euro traded steady to slightly lower against the dollar in Asian trading on Monday as market participants jumped to the sidelines before eurozone and IMF officials met to discuss Greek aid on Monday.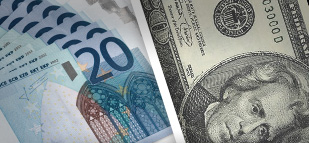 In Asian trading on Monday,
EUR/USD
was trading down 0.08% at 1.2964, up from a session low of 1.2960, and off from a high of 1.2977.
The pair was likely to find support at 1.2737, Wednesday's low, and resistance at 1.2991, Friday's high.
The International Monetary Fund and E.U. policymakers are due to meet on Monday to discuss freeing up pending aid for Greece.
European governments have expressed support for giving Greece a two-year extension to cut the country's debt burdens to 120% of GDP by 2022, a proposal at which the IMF has balked.
The IMF has opposed the two-year extension and says policymakers should stick with the plan for Greece to bring debt burdens down to 120% by 2020 — and not 2022 — but has said European countries should take a hit on Greek loans, which has run into opposition in Europe.
Investors were hoping all sides strike a deal and free up aid earmarked for Athens.
The euro continued to see some support stemming from solid German confidence data.
The German Ifo Institute reported that its index of business confidence jumped to 101.4 in November from 100.0 in October, beating expectations for a decline to 99.5.
The data came in the heels of a report revealing that Germany's manufacturing purchasing managers' index climbed to 46.8 in November from 46.0 in , beating out market forecasts for a 45.9 reading.
Germany's month-on-month gross domestic product grew 0.2% in the third quarter, in line with expectations.
The broader eurozone's manufacturing purchasing managers' index rose to 46.2 for November from 45.4 in October, above expectations for a reading of 45.6.
The euro, meanwhile, was down against the pound and up against the yen, with
EUR/GBP
trading down 0.07% at 0.8086, and
EUR/JPY
trading up 0.11% at 107.06.