Investing.com - The U.S. dollar is mixed against its major rivals in Wednesday's Asian session following another day of impressive gains for U.S. equities, though fears remain that the banking solution being applied in Cyprus could be a model used in other economically challenged European nations.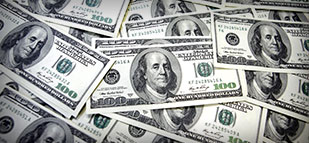 In Asian trading Wednesday,
EUR/USD
is higher by 0.02% at 1.2865. The Cyprus bailout deal, announced Tuesday, guaranteed that accounts holding EUR100,000 or less will continue to be insured and likely moved to another financial institution, though the fates of larger accounts remained up in the air, with depositors and bondholders facing haircuts.
Earlier this week, Jeroen Dijsselbloem, head of the Eurogroup of euro zone finance ministers, said that model could be applied throughout Europe. That made market participants jittery, but French President Francoise Hollande and Spain's prime minister, Mario Rajoy sought to assuage investors by saying Cyprus is a unique situation.
GBP/USD
is up 0.03% at 1.5165 while
USD/JPY
is higher by 0.19% at 94.63. On Tuesday, Bank of Japan Governor Haruhiko Kuroda said earlier he wanted to see inflation rates rise to 2% in two years and added he'd advocate buying more government debt to reach that goal.
USD/CHF
fell 0.01% to 0.9480 while
USD/CAD
is up 0.02% at 1.0164.
In U.S. economic news, the Conference Board said its March reading of consumer confidence fell to 59.7 from a revised 68 in February. Economists expected a March reading of 68.7.
The Commerce Department said durable goods orders rose 5.7% in February after falling 3.8% in January. Economists expected a February increase of 4.9%. Core orders fell 0.5%. Economists expected a core increase of 0.5%. The Commerce Department also said new home sales fell 4.6% last month to seasonally-adjusted rate of 411,000, but rose 12.3% on a year-over-year basis.
The S&P/Case Shiller composite index of home prices in 20 metro areas rose 0.9% in December on a seasonally-adjusted basis. On a non-adjusted basis, the index rose 0.2%. Economists expected a seasonally-adjusted increase of 0.5%.
Ahead of the release of the Reserve Bank of Australia's financial stability review,
AUD/USD
is down 0.09% at 1.0476.
NZD/USD
is off 0.04% at 0.8349. The U.S. Dollar Index is lower by 0.01% at 83.01.