Investing.com - The dollar gained against the world's major global currencies on Monday as investors parked in the safe-haven greenback to see if eurozone and IMF. officials strike a deal to disburse aid to Greece.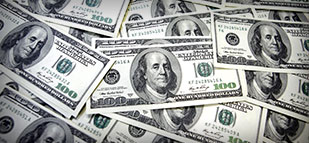 Bottom fishing brought the greenback higher as well, as solid German business confidence figures beat expectations last week and enticed investors out of the safety of the U.S. currency.
In Asian trading on Monday,
EUR/USD
was down 0.14% at 1.2956.
The International Monetary Fund, E.U. finance ministers and officials from the European Central Bank are due to meet on Monday to discuss freeing up pending aid for Greece.
Sticking points have held up aid payments to Greece in previous meetings.
European governments have expressed support for giving Greece a two-year extension to cut the country's debt burdens to 120% of GDP by 2022, a proposal at which the IMF has balked.
The IMF has opposed the two-year extension and says policymakers should stick with the plan for Greece to bring debt burdens down to 120% by 2020 — and not 2022 — but has said European countries should take a hit on Greek loans, which has run into opposition in Europe.
Currency market participants were hoping early Monday that all sides strike a deal and free up aid earmarked for Athens, though until such an announcement becomes public, the dollar served as the currency of choice to ride out uncertainty.
Last week's risk-on trading session also found fuel in European data, which sent the dollar falling until bottom fishers snapped it up on Monday.
The German Ifo Institute reported that its index of business confidence jumped to 101.4 in November from 100.0 in October, beating expectations for a decline to 99.5.
The data came in the heels of a report revealing that Germany's manufacturing purchasing managers' index climbed to 46.8 in November from 46.0 in October, beating out market forecasts for a 45.9 reading.
Germany's month-on-month gross domestic product grew 0.2% in the third quarter, in line with expectations.
The broader eurozone's manufacturing purchasing managers' index rose to 46.2 for November from 45.4 in October, above expectations for a reading of 45.6.
The dollar, however, found firm footing on Monday on demand from bargain hunters as well as from those looking for safe harbor to ride out Greek aid uncertainty.
Meanwhile, the greenback was up against the pound, with
GBP/USD
trading down 0.03% at 1.6026.
The dollar was down against the yen, with
USD/JPY
trading down 0.07% at 82.33 and up against the Swiss franc, with
USD/CHF
trading up 0.13% at 0.9293.
The dollar was up against its cousins in Canada, Australia and New Zealand, with
USD/CAD
trading up 0.03% at 0.9930,
AUD/USD
down 0.10% at 1.04500 and
NZD/USD
trading down 0.02% at 0.8234.
The dollar index, which tracks the performance of the greenback versus a basket of six other major currencies, was up 0.12% at 80.33.