Investing.com - Sluggish U.S. gross domestic product figures sent the dollar sliding against most major currencies on Friday on concerns the Federal Reserve will be more likely to simulate the economy.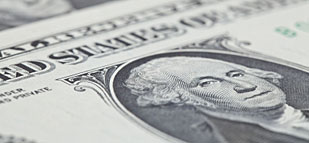 The Commerce Department reported the U.S. economy expanded 2.2% in the first quarter, missing market hopes for 2.5% growth.
The euro was up against the dollar in U.S. trading Friday, with
EUR/USD
up 0.29% and trading at 1.3259.
Weaker-than-expected GDP growth figures primed fears the Federal Reserve will consider stimulating the economy via quantitative easing, under which the Fed buys bonds held by banks, flooding the economy with stimulating liquidity that weakens the dollar as a side effect.
Fed Chairman Ben Bernanke has said he cannot rule such measures out.
Sluggish growth figures offset the Thomson Reuters/University of Michigan's consumer sentiment's index of 76.4 for April, which beat expectations for a 75.7 reading.
Investors sold the dollar despite increasingly grim news out of Spain, which suffered a downgrade from U.S. ratings agency Standard & Poor's, the second such move this year.
Aside from cutting Spain's long term debt rating to BBB-plus, the agency slapped a negative outlook rating on the country as well.
Furthermore, Spain's jobless rate hit 24.4%, an 18-year high, the National Statistics Institute reported.
However, Italy successfully sold bonds as did Spain albeit at high borrowing costs, which left investors selling dollars and snapping up assets like gold.
The dollar fell against the yen despite a decision by the Bank of Japan to expand a bond-back program by JPY10 trillion to weaken the currency.
Markets felt the easing measure fell short of what the economy needed, and investors stocked up on yen they sold in anticipation of the announcement.
The greenback, meanwhile, was down against the pound, with
GBP/USD
up 0.53% and trading at 1.6270.
The U.S. currency was down against the yen, with
USD/JPY
trading down 0.68% at 80.45, and down against the Swiss franc, with
USD/CHF
down 0.31% and trading at 0.9061.
The dollar was down against its counterparts in Canada, Australia and New Zealand, with
USD/CAD
down 0.37% at 0.9810,
AUD/USD
up 0.77% at 1.0469 and
NZD/USD
up 0.97% at 0.8226.
The dollar index, which tracks the performance of the greenback versus a basket of six other major currencies, was down 0.30% at 78.77.
In the U.S. on Monday, the Chicago Purchasing Managers' Index will be released as will the Core Personal Consumption Spending Price Index.