Investing.com - The euro was lower against all of the other major currencies on Wednesday, as disappointing data out of the euro zone added to concerns over the worsening economic outlook for the region.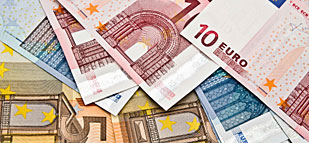 During European early afternoon trade, the euro skidded to a more than one-week low against the U.S. dollar, with
EUR/USD
falling 0.40% to 1.2933.
The euro weakened broadly after data showed that the flash euro zone manufacturing purchasing managers' index fell to 45.3 in October from a final reading of 46.1 in September. Analysts had expected the index to ease up to 46.6 in October.
A separate report showed that the euro zone's service's PMI inched up to 46.2 in October from 46.1 last month.
Germany's flash manufacturing PMI fell to 45.7 in October, from a final reading of 47.4 in September, adding to concerns over the outlook for the bloc's largest economy.
Elsewhere, a report by German research institute Ifo showed that its closely watched business climate index deteriorated to its lowest level since March 2010 this month.
The single currency also fell to a more-than one week low against the pound, with
EUR/GBP
down 0.77% to 0.8078.
Sterling found support after Bank of England Governor Mervyn King said Tuesday that policymakers would have to think "long and hard" before implementing further quantitative easing measures.
The euro was also lower against the yen and the Swiss franc, with
EUR/JPY
falling 0.50% to 103.17 and
EUR/CHF
slipping 0.09% to 1.2096.
The shared currency was weaker against the Australian, New Zealand and Canadian dollars, with
EUR/AUD
tumbling 0.92% to trade at 1.2533,
EUR/NZD
losing 0.63% to trade at 1.5894 and
EUR/CAD
dropping 0.48% to 1.2826.
The Australian and New Zealand dollars remained supported after a report earlier showed that China's HSBC manufacturing PMI improved to 49.1 in October, compared with a final reading of 47.9 in September.
Meanwhile, in Australia, official data showed that consumer price inflation rose 0.7% in the third quarter, slightly better than expectations for a 0.6% increase.
Later Wednesday, European Central Bank President Mario Draghi was to attend a meeting in Germany's central bank, which was to be followed by a press conference.
Meanwhile, the Federal Reserve was to announce its benchmark interest rate and release its first monetary policy statement since the central bank announced a third round of quantitative easing in September. The U.S. was to release official data on new home sales.