Investing.com - The dollar remained lower against the yen and was steady against the euro on Monday after official data showed that U.S. durable goods orders fell at the fastest pace in nearly a year in July.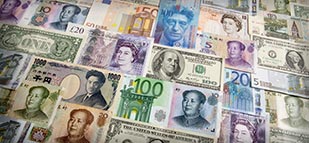 During U.S. morning trade, the dollar was weaker against the yen, with
USD/JPY
down 0.18% to 98.55, after briefly touching lows of 98.28.
The dollar touched session lows against the yen after the Commerce Department said U.S. durable goods orders dropped 7.3% in July, worse than expectations for a 4% decline. It was the largest decline since August 2012.
Core durable goods orders, excluding volatile transportation items, fell 0.6% last month, defying expectations for a 0.5% increase.
The data came after a report on Friday showed that U.S. new home sales fell by a larger-than-forecast 13.4% in July, the largest decline in more than three years.
The weak data added to uncertainty over whether the Federal Reserve will start to taper its USD85 billion-a-month asset purchase program next month.
The dollar was little changed against the euro, with
EUR/USD
edging up 0.02% to 1.3380.
Demand for the single currency continued to be underpinned after a senior European Central Bank policymaker said Friday he did not see many arguments for a rate cut following a recent series of improved economic data from the region.
The dollar was steady against the pound, with
GBP/USD
inching up 0.04% to 1.5574, after rising as high as 1.5612 following the durables report.
The dollar was higher against the Swiss franc, with
USD/CHF
up 0.16% to 0.9232.
Elsewhere, the greenback was broadly lower against its Australian, New Zealand and Canadian counterparts, with
AUD/USD
rising 0.20% to 0.9043,
NZD/USD
advancing 0.74% to 0.7865 and
USD/CAD
up 0.19% to 1.0517.
In New Zealand, data on Monday showed that the trade balance swung into a larger than expected deficit of NZD774 million in July, from a surplus of NZD374 million the previous month.
The dollar index, which tracks the performance of the greenback versus a basket of six other major currencies, edged up 0.05% to 81.44.