Investing.com - The dollar was broadly lower against the other major currencies on Monday after the latest U.S. jobs report fell short of expectations, casting some doubt over a possible Federal Reserve decision to start tapering stimulus later this month.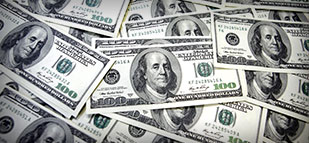 During U.S. morning trade, the euro hit one-week against the dollar, with
EUR/USD
rising 0.52% to 1.3249.
Data on Friday showed that the U.S. economy added 169,000 jobs in August, fewer than the 180,000 forecast by economists and jobs growth for the two previous months was also revised lower.
The report added to uncertainty over whether the Fed will start to unwind its USD85 billion-a-month asset purchase program at its upcoming policy meeting on September 17-18.
The euro also found support after the Sentix index of euro zone investor confidence rose to a six month high of 6.5 in September, up from minus 4.9 last month. Analysts had forecast a reading of minus 2.8.
The pound rose to three-month highs against the dollar, with
GBP/USD
advancing 0.54% to 1.5715.
In the U.K., Chancellor George Osborne said in a speech on Monday that the economy is "turning a corner", but added that risks to the recovery still remained.
Elsewhere, the dollar gained ground against the yen, with
USD/JPY
rising 0.46% to 99.56, after rising as high as 100.11 earlier.
Demand for the safe haven yen was hit following strong gains Japanese equities markets overnight after news that Tokyo won the bid to host the 2020 Olympics.
Market sentiment was buoyed by expectations that spending and construction activity in preparation for the 2020 Olympic Games will further help boost Japan's economic recovery in the coming years.
Risk appetite was also boosted after upbeat trade data out of China added to indications that the world's second largest economy is recovering from a slowdown.
Data on Sunday showed that Chinese exports were 7.2% higher year-over-year in August, up from 5.1% in July, and imports were up 7%.
In Japan, revised data released Monday showed that the economy expanded by 0.9% in the second quarter, bringing the annualized rate of growth to 3.8%, compared with a preliminary reading of 2.6%. The initial estimate for quarter on quarter growth was 0.6%.
The dollar slid lower against the Swiss franc, with
USD/CHF
down 0.57% to 0.9320.
Elsewhere, the greenback was broadly lower against its Australian, New Zealand and Canadian counterparts, with
AUD/USD
climbing 0.34% to 0.9220,
NZD/USD
edging up 0.12% to 0.8015 and
USD/CAD
shedding 0.37% to trade at 1.0373.
Demand for the Australian dollar was underpinned by the Chinese data, in the first day of trade after federal elections in Australia.
The Canadian dollar hit fresh session highs after data showed that the new building permits issued in Canada jumped 20.7% in July, easily outstripping expectations for a 1% increase.
The dollar index, which tracks the performance of the greenback versus a basket of six other major currencies, was down 0.41% to 81.85.