Investing.com - Natural gas prices extended Thursday's gains into Friday after official U.S. inventory data revealed the country's stockpiles rose less than expected last week.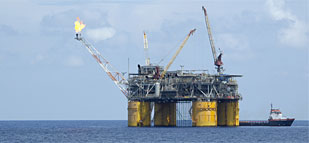 On the New York Mercantile Exchange, natural gas futures for delivery in October traded at USD3.665 per million British thermal units during U.S. trading, up 0.73%.
The October contract settled up 1.99% at USD3.638 per million British thermal units on Thursday.
The commodity hit a session low of USD3.604 and a high of USD3.676.
The U.S. Energy Information Administration said in its weekly report on Thursday that natural gas storage in the U.S. in the week ended Sept. 6 rose by 65 billion cubic feet, below market expectations for an increase of 66 billion cubic feet.
Inventories increased by 27 billion cubic feet in the same week a year earlier, while the five-year average change for the week is a build of 62 billion cubic feet.
Total U.S. natural gas storage stood at 3.253 trillion cubic feet as of last week. Stocks were 172 billion cubic feet less than last year at this time and 46 billion cubic feet above the five-year average of 3.207 trillion cubic feet for this time of year.
The report showed that in the East Region, stocks were 114 billion cubic feet below the five-year average, following net injections of 49 billion cubic feet.
Stocks in the Producing Region were 106 billion cubic feet above the five-year average of 993 billion cubic feet after a net injection of 14 billion cubic feet.
Investors also kept a wary eye Tropical Storm Ingrid, which formed in the southwestern Gulf of Mexico though it was poised to make landfall in Mexico.
Tropical weather systems often disrupt production by prompting gas rig operators to evacuate offshore facilities.
The Gulf of Mexico is home to 10% of U.S. natural gas production.
Capping gains, however, were weather forecasts calling for a return of milder temperatures across parts of the Midwest and Northeast of the U.S. next week, home to many natural gas consumers, though above normal temperatures forecast for the West Coast offset the trend.
Demand for natural gas tends to fall as temperatures moderate, as homes and businesses throttle back their air conditioners.
Reports of a decline in nuclear power outages dampened gains as well.
Elsewhere on the NYMEX, light sweet crude oil futures for delivery in October were down 0.73% and trading at USD107.81 a barrel, while heating oil for October delivery were down 0.57% and trading at USD3.0987 per gallon.