Investing.com - Gold futures dropped in mid U.S. trade Monday despite a lower dollar and optimism over the Merkel- Sarkozy meeting in Berlin.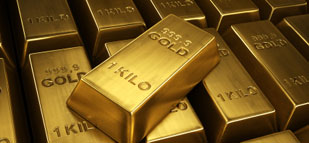 On the Comex division of the New York Mercantile Exchange, gold futures for February delivery traded at USD1611.55 a troy ounce during mid U.S. trade giving back 0.32%.
It earlier hit a high of USD1624.35 and a low of USD1606.05.
Gold futures were likely to find support at USD1523.95 and technical resistance exists at USD1644.12.
Weakness in the U.S. dollar usually works to lift precious metal prices.
The dollar index, which tracks the performance of the greenback versus a basket of six other major currencies, fell 0.32% to trade at 81.36.
A weaker U.S. dollar normally lifts gold prices as it increases the metals appeal as an alternative asset and makes dollar priced commodities less expensive for holders of other currencies.
German Chancellor Merkel stated that she was optimistic that progress was being made at the meeting with French President Sarkozy. She believes that a solution to the debt crisis could come as early as the end of January.
However, Merkel made is clear that there is no magic bullet for the crisis, it would be a step by step solution
Overnight deposits at the European Central Bank reached record levels for the second day on Monday, adding to fears that the debt crisis is far deeper than originally believed.
For much of the last year, investor's typical reaction to bad news from Europe was to buy gold, as its boosts safe haven appeal of the precious metal, but that relationship has unraveled recently.
Instead, gold futures have moved largely in line with other commodities and risk assets over the past month, with investors preferring the relative safety of the U.S. dollar.
Economic bullish news from the U.S. last week, included a very positive NFP report indicating 200,000 new jobs created and a falling unemployment rate to 8.5% failed to ignite an early rally in equities.
Elsewhere on the Comex, silver for March added 0.77% to trade at USD28.90 a troy ounce, while copper for March delivery moved lower by 0.51% to trade at USD3.42 a pound.