Investing.com - Gold futures were lower during European morning trade on Tuesday, re-approaching a six-week low hit in the previous session as the U.S. dollar pushed higher after Moody's lowered credit ratings on five Spanish regions.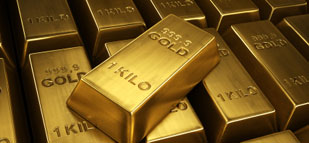 Investors are also awaiting the outcome of the Federal Reserve's two-day policy meeting on Wednesday.
On the Comex division of the New York Mercantile Exchange, gold futures for December delivery traded at USD1,719.35 a troy ounce during European morning trade, shedding 0.4%.
Prices fell by as much as 0.5% earlier in the session to trade at a daily low of USD1,717.75 a troy ounce. On Monday, gold prices touched USD1,713.30 a troy ounce, the cheapest level since September 7.
Gold prices were likely to find support at USD1,688.85 a troy ounce, the low from September 7 and resistance at USD1,754.95, the high from October 17.
Market sentiment deteriorated after ratings agency Moody's cut the credit ratings of Catalonia and four other Spanish regions late Monday, citing their worsening liquidity positions and predicting that these regions are likely to ask the central government for aid in 2013.
The downgrade comes on the heels of regional elections in Spain. Prime Minister Mariano Rajoy's center-right Popular Party increased its majority in his home region of Galicia on Sunday, removing a possible obstacle to formally requesting financial aid from Spain's euro zone partners.
Rajoy said last week he still had not decided whether to request a sovereign bailout.
Market players have been anticipating for the past month that the Spanish government would ask for a full-scale sovereign bailout.
A bailout would allow the European Central Bank to step in and buy Spanish sovereign debt, which would result in reduced borrowing costs for the debt-strapped nation. But Spain has been reluctant to do so because it may come with conditions on its budget.
The U.S. dollar was higher against the euro, while the dollar index, which tracks the performance of the greenback against a basket of six other major currencies, was up 0.25 to trade at 79.82, the highest since October 15.
A stronger U.S. dollar usually weighs on gold, as it dampens the metal's appeal as an alternative asset and makes dollar-priced commodities more expensive for holders of other currencies.
Meanwhile, gold traders are turning their attention to the Fed's policy meeting on Tuesday and Wednesday after the central bank announced its third round of quantitative easing last month.
The Fed vowed in mid-September to buy an average of USD40 billion of mortgage-backed securities a month until the economy shows significant improvement.
Moves in the gold price this year have largely tracked shifting expectations as to whether the U.S. central bank would pump more money into the financial system.
Elsewhere on the Comex, silver for December delivery fell 0.45% to trade at USD32.11 a troy ounce, while copper for December delivery dropped 0.95% to trade at USD3.588 a pound.