Investing.com - Gold prices softened in U.S. trading Friday as investors avoided the precious metal and opted to ride out U.S. fiscal uncertainties parked in the U.S. dollar.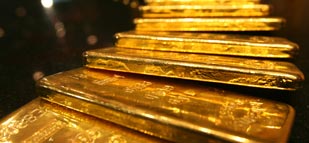 Gold and the dollar trade inversely from one another.
On the Comex division of the New York Mercantile Exchange, gold futures for February delivery were down 0.48% at USD1,655.75 a troy ounce in U.S. trading, up from a session low of USD1,654.55 and down from a high of USD1,666.95 a troy ounce.
Gold futures were likely to test support USD1,636.45 a troy ounce, the low from Dec. 21, and resistance at USD1,668.45, Wednesday's high.
In the U.S., President Barack Obama was to meet congressional leaders later Friday at the White House to discuss ways to avoid the fiscal cliff, a combination of tax hikes and spending cuts taking effect in unison at the end of this year.
The nonpartisan Congressional Budget Office has warned that failure to address the fiscal cliff could tip the U.S. economy into a recession next year.
Sticking points between the White House and congressional Republicans include tax rates on top U.S. earners and the scope of public spending cuts.
While policymakers can still negotiate fiscal reforms in the coming days or even in early 2013, investors opted for the safe and liquid greenback to ride out uncertainty.
Investors largely ignored solid U.S. economic indicators.
In the U.S. earlier, the National Association of Realtors revealed that pending home sales beat expectations in November, rising by 1.7% after a 5% increase the previous month.
Analysts were expecting pending home sales to rise by 1.0% in November.
Elsewhere in the U.S., the Chicago's purchasing managers' index rose to 51.6 in December, up from 50.4 in November and beating expectations for a rise to 51.0.
Meanwhile on the Comex, silver for March delivery was down 0.61% and trading at USD30.055 a troy ounce, while copper for March delivery was down 0.26% and trading at USD3.591 a pound.