Investing.com - Gold prices fell in Asian trading on Thursday after Goldman Sachs cut its 2013 price targets.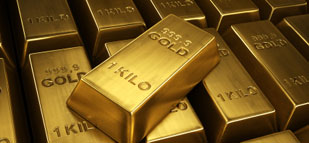 On the Comex division of the New York Mercantile Exchange, gold futures for February delivery were down 0.09% at USD1,692.35 a troy ounce, up from a session low of USD1,691.45 and down from a high of USD1,697.75 a troy ounce.
Gold futures were likely to test support at USD1,683.55 a troy ounce, the low of Nov. 6, and resistance at USD1,724.45, Monday's high.
Goldman Sachs earlier slashed its 3-, 6- and 12-month gold price forecasts to USD1,825 per ounce, USD1,805 per ounce and USD1,800 per ounce, respectively
The bank also introduced and introduce a $1,750 forecast for 2014.
The bank concluded that an improving U.S. economy will prompt the Federal Reserve to hold off on its loose monetary policies and allow the dollar and interest rates to strengthen somewhat, which will curb demand for gold, a popular hedge against weakening paper currencies, especially the dollar, which trades inversely from gold.
The news sent funds selling despite reports of central bank buying around the world.
U.S. budgetary uncertainty pushed gold down as well by fueling dollar demand.
Earlier, U.S. Treasury Secretary Timothy Geithner said the White House won't accept a 2013 fiscal framework without raising taxes on the top 2% of U.S. earners, a proposal Republicans have rejected.
Congressional Republicans and the Democratically controlled White House are scrambling to agree on fiscal reforms before the end of the year, when sweeping tax hikes and deep spending cuts kick in at the same time, a combination known as a fiscal cliff that could send the country into a recession next year if policymakers fail to act quickly.
Both sides have yet to reach a deal, which has frayed nerves and kept investors camped out in the safety of the greenback.
Elsewhere on the Comex, silver for March delivery was down 0.39% and trading at USD32.828 a troy ounce, while copper for March delivery was down 0.12% and trading at USD3.672 a pound.