Investing.com - Crude oil futures fell on Monday after fears of a looming U.S. military strike on Syria cooled, while softer U.S. employment figures also watered down demand for the commodity.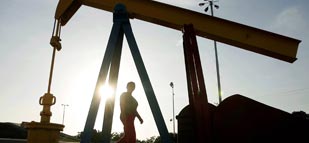 On the New York Mercantile Exchange, light sweet crude futures for delivery in October traded at USD109.54 a barrel during U.S. trading, down 0.90%.
The October contract settled up 1.99% at USD110.53 a barrel on Friday.
The commodity hit a session low of USD109.28 and a high of USD110.45.
U.S. President Barack Obama is scheduled to address the U.S. on Tuesday and press the case for an attack on Syria, though sentiments that he will face a tough sell in the U.S. House of Representatives cooled demand for oil by allaying fears that strikes will engulf Syria's oil-rich neighbors into the conflict.
Elsewhere, U.S. Labor Department reported on Friday that the economy added 169,000 jobs in August, less than market calls for a 180,000 increase.
July 's figure was revised down to 104,000 from 162,000, while June's figure was revised down to 172,000 from 188,000.
The private sector added 152,000 jobs in August, well beneath expectations for a 180,000 rise
The U.S. unemployment rate fell to 7.3% in August, from 7.4% in July, as more people left the workforce. Analysts were expecting the unemployment rate to remain unchanged last month.
Investors concluded by Monday that the Federal Reserve still remains on track to announcing plans to taper its USD85 billion in monthly bond purchases at its Sept. 17-18 policy meeting.
Such stimulus tools weaken the greenback to spur recovery, which in turn bolster oil prices by making the commodity an attractive buy in dollar-denominated exchanges, though an end to monetary stimulus programs could have the reverse effect.
On the ICE Futures Exchange, Brent oil futures for October delivery were down 2.11% at USD113.67 a barrel, up USD4.13 from its U.S. counterpart.