Investing.com - Crude oil futures were lower during European morning trade on Monday, as investors were cautious ahead of a meeting of euro zone finance ministers later in the day to discuss whether to release Greece's next tranche of aid.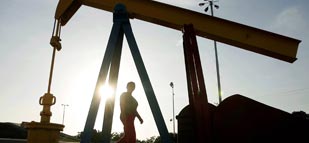 On the New York Mercantile Exchange, light sweet crude futures for delivery in January traded at USD87.92 a barrel during European morning trade, down 0.4% on the day.
New York-traded oil prices fell by as much as 0.55% earlier in the day to hit a session low of USD87.81 a barrel.
The International Monetary Fund, E.U. finance ministers and officials from the European Central Bank are due to meet on Monday to discuss freeing up pending aid for Greece.
German Chancellor Angela Merkel said she believes a deal can be reached at Monday's talks, while the French finance minister said over the weekend that an agreement is close.
Market sentiment weakened slightly after separatist parties in Spain's Catalonia region won the majority of the public vote in elections held over the weekend.
The win underlined fears about a potential negative impact on the euro zone's fourth largest economy, as Catalonia accounts for nearly 20% of economic activity and provides the most tax revenue to the central government.
Losses were limited on hopes consumers will spend more this holiday season in the U.S., the world's biggest oil consumer.
Surveys showed a record 247 million shoppers visited stores and websites between Thursday and Sunday, up 9.2% from the year before.
Markets participants continued to monitor developments surrounding the looming "fiscal cliff" in the U.S., approximately USD600 billion in automatic tax hikes and spending cuts due to come into effect on January 1.
There are fears the U.S. economy will fall back into a recession, unless a divided Congress and the White House can work out a compromise in the seven weeks left before the January 1 deadline.
Oil traders also monitored geopolitical tension between Israel and Hamas. The two parties agreed to a ceasefire on November 21 to halt an eight-day conflict that killed 162 Palestinians and six Israelis.
Countries in the Middle East and North Africa were responsible for 36% of global oil production and held 52% of proved reserves in 2011.
Elsewhere, on the ICE Futures Exchange, Brent oil futures for January delivery shed 0.4% to trade at USD110.94 a barrel, with the spread between the Brent and crude contracts standing at USD23.02 a barrel.