The Rural Mainstreet Index (RMI) increased slightly this month, primarily due to increased exports of agriculture commodities. Farm income continued to grow as March marked the 26th straight month the index has been above growth neutral. Cash rent prices for agricultural land have been increasing alongside farmland values and farm income.
The Rural Mainstreet Index increased to 59.8, a modest increase from the 59.6 it posted last month, and remained above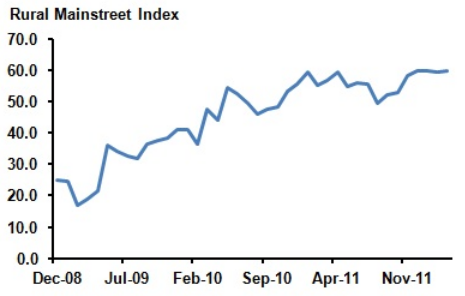 the 56.7 it posted 12 months prior.
According to Creighton University economist Ernie Goss, "Higher energy and fuel prices have not slowed growth in the farm economy. Compared to this time last year, the Rural Mainstreet economy is expanding at a faster pace with almost all economic dimensions stronger. Exports continue to be an important driver of growth."
Agriculture
The farmland price index increased to 78.7 this month from 75.0 in February. This marks the 26th straight month the index has been above growth neutral. As spring season approaches and farmers are focused on planting the upcoming crop, the farm equipment sales index declined to 61.5 from February's 63.4.
Bankers were asked this month, as they were also asked in May of 2010, to assess the change in cash rent prices for farmland over the past 12 months. 39% of bankers reported cash rents growing by more than 10.0% year-over-year whereas only 3.0% reported this type of growth in May of 2010.
Banking
The loan volume index increased to 48.4 from 31.2 a month prior. The check deposit index increased to 69.4 from 64.5 in February and the certificate of deposit and savings instruments decreased to 48.4 from a neutral 50.0 last month.
March's hiring index increased to 60.0 compared to 53.7 in February. "Job growth for Rural Mainstreet communities has strengthened over the past several months after many months of stagnation," said Goss.
The economic confidence increased to 63.0 from February's 60.3 as, "Improving national economic reports along with very healthy exports are clearly and positively affecting the economic outlook of bankers in our survey," according to Goss.
Survey
This survey represents an early snapshot of the economy of rural, agriculturally and energy-dependent portions of the nation. The RMI is a unique index covering 10 regional states, focusing on approximately 200 rural communities with an average population of 1,300. It gives the most current real-time analysis of the rural economy.