Investing.com - U.S. stocks finished higher on Friday, erasing earlier losses after lawmakers from both sides of the U.S. political divide expressed confidence they'll find a way to avoid a fast-approaching fiscal cliff.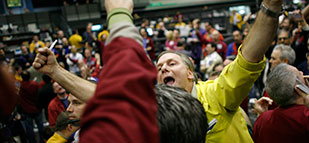 At the close of U.S. trading, the Dow Jones Industrial Average rose 0.37%, the S&P 500 index was up 0.48%, while the Nasdaq Composite index was up 0.57%.
In Washington earlier, lawmakers met with President Barack Obama and expressed optimism afterwards that they will be able to steer the U.S. economy away from the fiscal cliff, a combination of tax hikes and spending cuts due to kick in at the same time early next year.
The nonpartisan Congressional Budget Office and private-sector economists have all forecast the U.S. to fall into a recession if policymakers fail to act and avoid the cliff.
Hopes U.S. policymakers will avert a fiscal disaster sent stocks rising albeit in choppy trading.
Elsewhere, U.S. industrial production fell unexpectedly in October, the Federal Reserve reported Friday.
Industrial production fell 0.4% following a gain of 0.2% in September, whose figure was revised down from 0.4%.
Analysts had expected industrial production to rise 0.2% in October.
Superstorm Sandy disrupted business for a good chunk of the northeastern U.S. last month, which reflected in the numbers.
A separate report showed that the U.S. capacity utilization rate declined to 77.8% in October from 78.2% in September, missing expectations for an increase to 78.3%.
Leading Dow Jones Industrial Average performers included Alcoa, up 1.61%, Home Depot, up 1.44%, and Unitedhealth Group, up 1.27%.
The Dow Jones Industrial Average's worst performers included Hewlett-Packard, down 1.76%, Wal-Mart Stores, down 1.00%, and AT&T, down 0.84%.
European indices, meanwhile, finished lower.
The eurozone's gross domestic product contracted 0.1% in the third quarter, following a contraction of 0.2% in the preceding quarter.
While the economy shrank less than market expectations for a 0.2% contraction, the data confirmed the currency group is in a recession.
After the close of European trade, the EURO STOXX 50 fell 1.40%, France's CAC 40 fell 1.21%, while Germany's DAX 30 finished down 1.32%. Meanwhile, in the U.K. the FTSE 100 fell 1.19%.