Investing.com - U.S. stocks were broadly higher on Friday, but were lower for the week as expectations that the Federal Reserve will soon start tapering its asset purchase program hit market sentiment.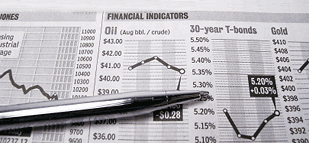 The Dow Jones industrial average edged up 0.29% on Friday and ended the week 1.8% lower. The S&P 500 rose 0.27%, but fell 2.1% for the week. The Nasdaq was down 0.22% on Friday to end the week 1.9% lower.
Share prices came under pressure after Fed Chairman Ben Bernanke said Wednesday that the bank could begin slowing its USD85 billion-a-month bond purchasing program by the end of 2013 and wind it down completely by the middle of 2014 if the economy picks up as the central bank expects.
The bank said it expects the U.S. economy to grow between 2.3% and 2.6% in 2013. The Fed also said it expects the unemployment rate to fall to between 6.5% and 6.8% by the end of 2014 and inflation to edge closer to its 2% target.
In Europe, the benchmark Stoxx Europe 600 dropped 1.2% on Friday after Greece's Democratic Left party withdrew from the coalition government in protest over planned public sector layoffs, leaving the government with only a slim majority in parliament.
Germany's DAX was down 1.76% at the close. France's CAC 40 was 1.11% lower, while Britain's FTSE 100 fell 0.70%.
In Asia, Japan's Nikkei rose 1.7% on Friday, bucking the regional trend, helped by a weaker yen. Meanwhile, China's Shanghai Composite was down 0.5% at the close.
Elsewhere, oil prices fell to three-week lows on Friday, with contracts for August delivery settling at USD93.89 a barrel, down 1.3%.
Gold was higher, with futures for August delivery rising 0.75% to USD1,295.55 a troy ounce.