Investing.com - U.S. stocks mostly edged lower on Friday, trimming the week's gains, following weaker-than-expected data on U.S. first quarter growth.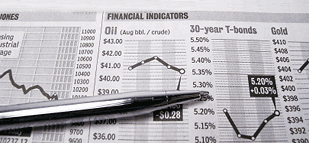 The Dow Jones industrial average edged up 0.08% to finish the week with a 1.1% gain. The S&P 500 slipped 0.18% on Friday, snapping five days of gains and ended the week 1.7% higher. The Nasdaq was down 0.33% on Friday, but still ended the week 2.3% higher.
The Commerce Department said U.S. gross domestic product expanded by 2.5% in the three months to March, missing expectations for growth of 3.0%.
The disappointing data added to expectations that the Federal Reserve will continue its monetary easing program, amid lingering concerns over the outlook for the U.S. economic recovery.
In the coming week, traders will be eyeing the outcome of Wednesday's Federal Reserve meeting and awaiting Friday's closely watched report on U.S. nonfarm payrolls.
In earnings news, shares of online retailer Amazon fell more than 7% on Friday as weaker-than-expected first quarter revenue growth overshadowed better-than-forecast first quarter earnings.
Shares in oil company Chevron were higher on Friday after first quarter earnings beat analysts' expectations.
In Europe, shares were broadly lower on Friday following the weak U.S. data, but the benchmark Stoxx Europe 600 ended the week up 3.7% as investors weighed the possibility of a rate cut by the European Central Bank ahead of the banks upcoming policy meeting on Thursday.
Asian markets were also lower, with Japan's Nikkei closing down 0.3% as the yen strengthened against the dollar after the Bank of Japan left monetary policy on hold.
Elsewhere, China's Shanghai Composite Index was down 1.0% on Friday, while Hong Kong's Hang Seng Index rose 0.7%.