Investing.com - Asian stocks traded broadly lower during Friday's session as a recent rally in the region's equities appears to be pausing on heightened fears that tapering of the Federal Reserve's quantitative easing could be announced as soon as next week.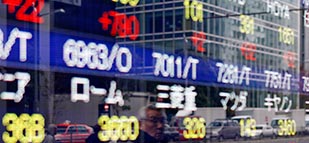 In Asian trading Friday, Japan's Nikkei 225 fell 0.73%. In an interview with Bloomberg on Thursday, renowned currency strategist Axel Merk of Merk Investments said the yen could weaken to "infinity" against the greenback.
However, Merk added Japan's policies of printing and spending money are not likely to end well. The yen is headed for weekly loss of close to 2% against the dollar.
Hong Kong's Hang Seng fell 0.51% while the Shanghai Composite dipped 1.02%. Financials and materials names were among the laggards in China. Airlines were among the leaders as Chinese stocks pulled back after a substantial rally that has left some investors thinking emerging markets stocks are now overbought. Consumer staples shares were also among the leaders in China.
Australia's S&P/ASX 200 lost 0.5% amid weakness in mining and materials shares.
Many investors expect the Federal Reserve to announce plans to taper its USD85 billion in monthly asset purchases at its Sept. 17-18 meeting.
Amid strong economic data and waning fears of an imminent U.S. military offensive against Syria, traders are preparing for a tapering announcement as soon as the end of the Fed meeting on September 18. It is believed that if the Fed does taper, it will reduce its bond purchases to USD75 billion per month.
In U.S. economic news out Thursday, initial claims for jobless benefits fell by 31,000 to 292,000 last week. Economists expected a reading of 330,000 claims. The less volatile four-week moving average fell to 321,250 from 328,750. That is the lowest reading since October 2007.
New Zealand's NZSE 50 rose 0.33% to be one of the regional standouts, but South Korea's Kospi lost 0.36%.
Singapore's Straits Times Index inched down 0.11%. S&P 500 futures rose 0.06%. On Friday, the U.S. will release data on retail sales, producer price inflation and preliminary data from the University of Michigan on consumer sentiment.