Investing.com - The U.S. dollar turned lower against the Swiss franc on Friday, paring some of the week's gains after the closely watched report on U.S. nonfarm payrolls indicated that the recovery in the labor market may be moderating.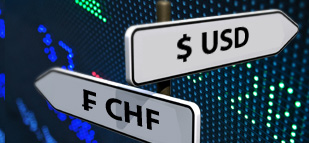 USD/CHF
hit 0.9302 on Friday, the pair's highest since December 12; the pair subsequently consolidated at 0.9243 by close of trade, still up 1.19% for the week.
The pair is likely to find support at 0.9172, Thursday's low and resistance at 0.9325, the high of December 12.
The U.S. Department of Labor said the economy added 155,000 jobs in December, slightly higher than forecasts for an increase of 150,000, but easing from an upwardly revised increase of 161,000 in November. The unemployment rate held steady at 7.8%.
The dollar had rallied against the Swissie on Thursday after the minutes of the Federal Reserve's December policy meeting showed that some policymakers considered an earlier-than-expected end to the bank's quantitative easing program.
The Fed's December minutes said also interest rates would remain close to zero "at least as long" as the jobless rate remains above 6.5%.
Meanwhile, investors remained cautious as relief over an agreement to avoid the U.S. fiscal cliff was offset by concerns about continuing political wrangling over further spending cuts and raising the U.S. debt ceiling.
In the week ahead, investors are likely to remain focused on U.S. fiscal negotiations, while monetary policy decisions by the European Central Bank and the Bank of England will also be in focus.
Ahead of the coming week, Investing.com has compiled a list of these and other significant events likely to affect the markets.
Monday, January 7
The Swiss National Bank is to release data on its foreign currency reserves, which gives investors an insight into the bank's currency market operations.
Tuesday, January 8
The U.S. is to release private sector data on economic optimism, as well as official data on consumer credit, which is closely linked to consumer spending.
Wednesday, January 9
The U.S. is to publish official data on crude oil inventories, while the U.S. Treasury is to hold an auction of 10-year government bonds.
Thursday, January 10
The U.S. is to publish the weekly government report on initial jobless claims.
Friday, January 11
Switzerland is to release official data on consumer price inflation which accounts for a majority of overall inflation.
The U.S. is to round up the week with the government's report on the trade balance, the difference in value between imports and exports.