Investing.com - The New Zealand dollar ended Friday's session lower against its U.S. counterpart, trimming a weekly gain as weaker-than-forecast U.S. economic growth data weighed on appetite for riskier assets.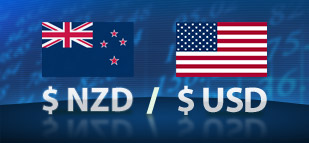 NZD/USD
hit 0.8561 on Thursday, the pair's highest since April 15; the pair subsequently consolidated at 0.8476 by close of trade on Friday, gaining 0.69% for the week.
The pair is likely to find support at 0.8385, Wednesday's low and resistance at 0.8561, Thursday's high.
The Commerce Department said Friday U.S. gross domestic product expanded by 2.5% in the three months to March, missing expectations for growth of 3.0%.
The kiwi rallied to two-week high against the greenback on Thursday after stronger-than-expected data from the U.S. and the U.K. saw risk sentiment rebound.
Official data showed that the U.K. economy returned to growth in the first quarter, expanding by a larger-than-forecast 0.3%, while a separate report showed that U.S. initial jobless claims fell by 16,000 to 339,000.
Meanwhile, in New Zealand, official data released Friday showed that the country's trade balance widened unexpectedly last month to NZD718 million from NZD414 million. Analysts expected the trade balance to narrow to NZD373 million.
Earlier this week, the Reserve Bank of New Zealand held the benchmark interest rate at 2.50%, a record low.
Commenting on the decision RBNZ Governor Graeme Wheeler said economic growth has accelerated but the bank remains concerned about rising home prices.
Elsewhere, the kiwi was lower against the euro on Friday, with
EUR/NZD
adding 0.37% to hit 1.5364.
The single currency looked likely to remain under pressure ahead of the upcoming European Central Bank policy meeting as speculation over a rate cut weighed.
In the week ahead, investors will be awaiting the outcomes of policy meetings by the Federal Reserve and the ECB, as well as Friday's closely watched report on U.S. nonfarm payrolls.
Ahead of the coming week, Investing.com has compiled a list of these and other significant events likely to affect the markets.
Monday, April 29
The U.S. is to produce official data on personal income and expenditure, as well as private sector data on pending home sales, a leading economic indicator.
Tuesday, April 30
New Zealand is to release data on business confidence, a leading indicator of economic health.
Later Tuesday, the U.S. is to release data on consumer confidence, a report on manufacturing activity in Chicago and private sector data on house price inflation.
Wednesday, May 1
Markets in China are to remain closed for a national holiday. Meanwhile, Beijing is to release official data on manufacturing activity, a leading economic indicator.
The Asian nation is New Zealand's largest trade partner.
The U.S. is to release the ADP nonfarm payrolls report on private sector job creation as well as government data on crude oil stockpiles. In addition, the Institute of Supply Management is release data on U.S. manufacturing activity, a leading economic indicator.
In addition, the Federal Reserve is to announce its benchmark interest rate. The announcement is to be accompanied by the bank's monetary policy statement, which contains valuable insights into economic conditions from the bank's perspective.
Thursday, May 2
The U.S. is to publish the weekly government report on initial jobless claims as well as official data on the trade balance.
Friday, May 3
The U.S. is to round up the week with government data on nonfarm payrolls and the unemployment rate as well as data on average hourly earnings and factory orders. In addition, the ISM is release data on U.S. service sector activity, a leading economic indicator.