Investing.com - The dollar slid against most major currencies Thursday after Federal Reserve Chairman Ben Bernanke said he cannot rule out additional monetary stimulus and bearish jobless claims sparked speculation of a slowing economy.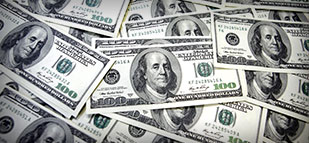 The euro traded higher against the dollar with
EUR/USD
 up 0.15% to 1.3237.
Depressing the greenback, official data indicated U.S. Initial Jobless Claims fell less-than-expected to a seasonally adjusted 388K last week from 389K in the preceding week whose figure was revised up from 386K.
Analysts had expected Initial Jobless Claims to fall to 375K last week.
This news weighed on the worldwide risk sentiment despite pending U.S. home purchases surging 4.1% in March to 101.4, the highest level since April, 2010.
In the euro zone, the European Commission reported that an index of executive and consumer sentiment dropped to 92.8 from a revised 94.5 in March.
Economists were expecting a slide to 94.2 adding to the negative euro region sentiment.
However, Ben Bernanake signaled yesterday that further stimulus from the central bank is unlikely unless the economy surprisingly starts to weaken.  
The Fed Chief repeated his goal of keeping borrowing costs low until late 2014, at the earliest.
Meanwhile, the U.S. dollar traded lower against the pound, with
GBP/USD
 up 0.19% to 1.6193.
The pound posted its ninth straight session win against the greenback after a Nationwide Building Society sentiment index jumped to 53 in March from 44 in February.
The U.S. currency was down against the yen, with 
USD/JPY
 trading lower by 0.61% to 80.85, and against the Swiss franc, with 
USD/CHF
off by 0.14% to 0.9079.
The Bank of Japan will meet tomorrow and is expected to boost stimulus measures.
The dollar was up against its counterparts in Canada but down Australia and New Zealand, with 
USD/CAD
 up 0.09% to 0.9842, 
AUD/USD
 higher by 0.33% at 1.0385 and 
NZD/USD
 up 0.10% to 0.8139.
The dollar index, which tracks the performance of the greenback versus a basket of six other major currencies, traded off by 0.13% at 79.03.