Investing.com - The pound slipped lower against the dollar on Friday, amid expectations that the improving U.K. economic outlook would prompt the Bank of England to raise interest rates sooner than it has indicated.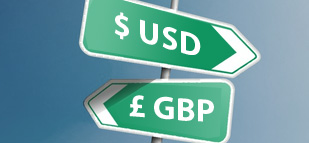 GBP/USD
pulled back from 1.5638, the session high, to settle at 1.5566, slipping 0.13% for the day, and ending the week 0.50% lower.
Cable was likely to find support at 1.5494, Thursday's low and resistance at 1.5664, Thursday's high.
The pound initially hit session highs against the dollar after the Office for National Statistics said U.K. second quarter growth was revised up to 0.7% from an initial estimate of 0.6%. Economists had expected the quarterly rate of growth to remain unchanged.
Sterling gave up gains ahead of a speech by Bank of England Governor Mark Carney, amid concerns that he would reiterate that the bank intends to keep interest rates on hold at current record lows levels, as outlined in the bank's forward guidance.
Earlier this month the BoE said it would keep bank rates on hold until the U.K. unemployment rate falls below 7%, something the bank sees as unlikely to happen for another three years.
Sterling remained supported against the dollar after Friday's weak U.S. new home sales data dampened expectations that the Federal Reserve will begin tapering next month.
The Commerce Department said U.S. new home sales fell by a larger-than-forecast 13.4% in July, the largest decline in more than three years.
The data came amid ongoing speculation over whether the Fed will start to scale back its USD85 billion-a-month asset purchase program in September.
The minutes of the Fed's July meeting showed that officials were "broadly comfortable" with plans to reduce asset purchases, but divisions over the timing of possible tapering remain, with almost all committee members agreeing that a change in the purchase program was not yet appropriate.
Elsewhere, the pound was lower against the euro, with
EUR/GBP
up 0.30% to 0.8594 at the close of trade, to end the week 0.84% higher.
The single currency remained supported after European Central Bank policymaker Ewald Nowotny said Friday he did not see many arguments for a rate cut.
The comments came after euro zone PMI data earlier in the week indicated that the region's economy is continuing gain momentum. A report on Friday showed that German economic growth was revised up to 0.7% in the second quarter.
In the week ahead, investors will be looking ahead to revised data on U.S. second quarter growth, as well as reports on the housing sector and consumer confidence. Markets will also be focusing on a speech by BoE Governor Mark Carney on Wednesday.
Ahead of the coming week, Investing.com has compiled a list of these and other significant events likely to affect the markets.
Monday, August 26
Markets in the U.K. are to remain closed for a national holiday.
The U.S. is to publish official data on durable goods orders, a leading indicator of production.
Tuesday, August 27
The U.S. is to publish private sector data on house price inflation as well as a closely watched report on consumer confidence.
Wednesday, August 28
The U.K. is to release a private sector report on retail sales, an important economic indicator. BoE Governor Mark Carney is to speak; his comments will be closely watched for indications on the future direction of monetary policy.
Later Wednesday, the U.S. is to release private sector data on pending home sales.
Thursday, August 29
The U.S. is to publish revised data on second quarter gross domestic product, the broadest indicator of economic activity, as well as the weekly report on initial jobless claims.
Friday, August 30
The U.K. is to release reports on net lending to individuals and mortgage approvals.
The U.S. is to round up the week with a report on manufacturing activity in Chicago and revised data from the University of Michigan on consumer sentiment, as well as reports on personal income and personal spending.