Investing.com - The pound was lower against the dollar on Thursday after the Federal Reserve said it could start scaling back its bond buying program by the end of the year, but losses were limited following upbeat U.K. retail sales data.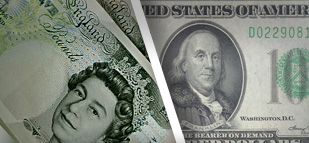 GBP/USD
hit 1.5415 during European afternoon trade, the pair's lowest since June 6; the pair subsequently consolidated at 1.5451, down 0.21%.
Cable was likely to find support at 1.5380, the low of June 6 and resistance at 1.5492, the session high.
The dollar remained broadly stronger after Fed Chairman Ben Bernanke said the bank could begin tapering its USD85 billion-a-month asset purchase program later this year and wind it down completely by the middle of 2014 if the economy picks up as the central bank expects.
The bank said it expects the U.S. economy to grow between 2.3% and 2.6% in 2013. The Fed also said it expects the unemployment rate to fall to between 6.5% and 6.8% by the end of 2014 and inflation to edge closer to its 2% target.
Sterling found support after official data showed that U.K. retail sales rose significantly more than expected in May.
The Office for National Statistics said U.K. retail sales climbed 2.1% in May, outstripping expectations for a gain of 0.8% after falling 1.1% in April, the largest drop in a year.
Retail sales were 1.9% higher from a year earlier, compared to expectations for a 0.2% increase.
The ONS said food sales rose 3.5% in May, the largest increase in two years, while non-store retailing, including online sales was up 4.3%.
The data added to the view that the economic recovery in the U.K. is gaining traction in the second quarter.
Elsewhere, sterling was close to session highs against the euro, with
EUR/GBP
down 0.45% to 0.8545.
The euro came under pressure after data showed that manufacturing activity in Germany contracted more than expected in June.
Germany's manufacturing purchasing managers' index fell to 48.7 in June compared to expectations for a reading of 49.8 and down from a final reading of 49.4 in May.
Activity in Germany's services sector rose to a four-month high, with the services PMI improving to 51.3 from 49.7 in May.
The euro zone manufacturing PMI rose to 48.7 in June from a final reading of 48.3 in May, but remained well below the 50 level that separates contraction from expansion.
Service sector activity in the euro zone improved to a 15-month high in June, with the services PMI rising to 48.6 from 47.2 in May, above expectations for an increase to 47.5.