Investing.com - The euro crept up against the dollar on Friday as investors jumped to the sidelines to wait for the Federal Reserve's decision next week on the fate of its monthly USD85 billion bond-buying program.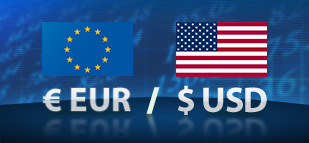 In U.S. trading on Friday,
EUR/USD
was up 0.04 % at 1.3304, up from a session low of 1.3254 and off from a high of 1.3321.
The pair was likely to find support at 1.3254, the earlier low, and resistance at 1.3324, Thursday's high.
In the U.S. earlier, the Thomson Reuters/University of Michigan preliminary U.S. consumer sentiment index fell to a six-month low of 76.8 in September from 82.1 in August, worse than expectations for a decline to 82.0.
Elsewhere, official data showed that U.S. retail sales rose 0.2% in August, missing expectations for a 0.4% rise after an upwardly revised 0.4% increase the previous month.
Core retail sales, excluding automobiles, rose 0.1% last month, short of expectations for a 0.3% gain after an upwardly revised 0.6% increase in July.
Despite soft U.S. data released earlier, consensus remained firm on Friday that the Federal Reserve will announce plans to taper its monthly USD85 billion asset-purchasing program at its Sept. 17-18 policy meeting, as the economy is still improving.
Fed asset purchases weaken the dollar to spur recovery, and talk of their dismantling can strengthen the greenback though the U.S. currency edged lower on sentiments that the Fed will start off tapering its stimulus program very gradually.
Elsewhere, separate data showed that the U.S. producer price index rose 0.3% in August, more than the expected 0.2% after a flat reading the previous month, which cemented expectations the Fed will begin buying less bonds to stimulate the economy.
Core producer price inflation, excluding food and energy, was flat last month, compared to expectations for a 0.1% rise, after a 0.1% gain in July.
Meanwhile, euro zone finance ministers were meeting in Vilnius, Lithuania, to discuss reforms to strengthen the region's banking sector.
On Thursday, the European Parliament approved legislation to allow the European Central Bank to oversee banks in the 17-nation currency bloc. ECB President Mario Draghi said the vote was "a real step forward" in establishing a banking union.
Elsewhere, the euro was down against the pound and down against the yen, with
EUR/GBP
trading down 0.45% at 0.8377 and
EUR/JPY
trading down 0.25% at 132.04.