Investing.com - Weaker-than-expected economic growth data in the U.S. pushed the dollar down against the euro on Friday, though talk the European Central Bank may cut interest rates next week capped the single currency's gains.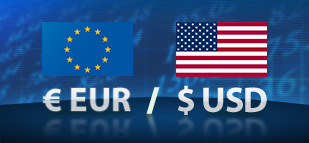 In U.S. trading on Friday,
EUR/USD
was up 0.10% at 1.3023, up from a session low of 1.2992 and off from a high of 1.3048.
The pair was likely to find support at 1.2956, Wednesday's low, and resistance at 1.3094, Thursday's high.
In the U.S. earlier, the Bureau of Economic Analysis revealed in a preliminary report that the U.S. gross domestic product rose 2.5% in the first quarter, missing expectations for a 3.0% increase though an improvement from a 0.4% rise in the previous quarter.
The news weakened the dollar by fueling sentiments that the Federal Reserve's monetary stimulus programs will stay in place for longer than expected.
Stimulus tools such as the Fed's monthly USD85 billion bond-buying program weaken the greenback to spur recovery.
Elsewhere, the Thomson Reuters/University of Michigan's consumer sentiment index rose to 76.4 in April, from a reading of 72.3 the previous month, beating expectations for an increase to 73.2.
The euro, meanwhile, continued to come under pressure after U.S. investment bank Goldman Sachs said it expected the European Central Bank to trim benchmark interest rates 25 basis points at its monetary policy meeting next Thursday.
The investment bank also cut its 2013 eurozone growth forecast to -0.7% from a previous forecast of -0.5%.
Slumping European industrial output reports, soft service-sector data and eroding business confidence data have many market participants speculating the ECB will move to loosen policy to kick-start recovery.
The euro, meanwhile, was down against the pound and down against the yen, with
EUR/GBP
trading down 0.18% at 0.8414, and
EUR/JPY
trading down 1.22% at 127.57.