Investing.com - The euro fell against the dollar on Thursday after a manufacturing barometer for the Philadelphia area of the U.S. grew at its fastest pace since April 2011 and cemented expectations that monetary stimulus programs may soon unwind.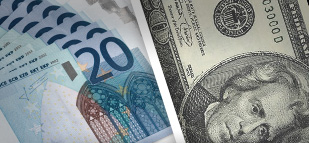 Federal Reserve Chairman Ben Bernanke has said monetary stimulus programs, which weaken the dollar to spur recovery, may scale back this year if the economy improves.
In U.S. trading on Thursday,
EUR/USD
was down 0.79% at 1.3190, up from a session low of 1.3161 and off from a high of 1.3301.
The pair was likely to find support at 1.2956, the low from June 3, and resistance at 1.3416, Wednesday's high.
The Federal Reserve Bank of Philadelphia said earlier that its manufacturing index rose to 12.5 in June from -5.2 in May, well above expectations for a -2.0 reading.
A separate report showed that U.S. existing home sales climbed 4.2% to 5.18 million units in May from April's total of 4.97 million, far surpassing market calls for a 0.6% increase.
Elsewhere, the Department of Labor said the number of individuals filing for initial jobless benefits in the U.S. last week rose by 18,000 to 354,000 compared to expectations for an increase of 4,000 to 340,000, though the numbers failed to seriously halt the dollar's advance.
Fed Chairman Ben Bernanke said Wednesday that monetary authorities could begin scaling back its USD85 billion-a-month asset purchasing program later this year and close it down completely by the middle of 2014 if the economy gains steam.
The Fed added the U.S. economy should grow between 2.3% and 2.6% in 2013, while the unemployment rate should fall to between 6.5% and 6.8% by the end of 2014, when inflation should approach its 2% target.
Meanwhile in Europe, Germany's manufacturing purchasing managers' index fell to 48.7 in June compared to expectations for a reading of 49.8 and down from a final reading of 49.4 in May, according to Markit Economics, which weakened the euro.
The eurozone's manufacturing PMI rose to 48.7 in June from a final reading of 48.3 in May, though the figure remained well below the 50 level that separates contraction from expansion.
The bloc's service-sector PMI rose to a 15-month high of 48.6 from 47.2 in May, above expectations for an increase to 47.5.
The euro, meanwhile, was down against the pound and up against the yen, with
EUR/GBP
trading down 0.53% at 0.8540, and
EUR/JPY
trading up 0.92% at 129.40.