Investing.com - The dollar rose against the world's major currencies on Wednesday, after the Fed made no mention for a need to jolt the economy via stimulus measures, while news that 15 of the country's 19 big banks passed stress tests bolstered the greenback as well.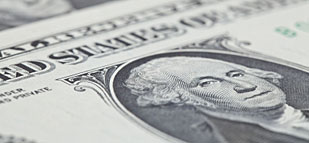 In Asian trading on Wednesday, the euro was down against the greenback, with
EUR/USD
losing 0.07% and trading at 1.3074.
The Federal Reserve earlier gave a reasonably positive view of the U.S. economy and left interest rates unchanged.
While headwinds such as weak housing, high oil prices and others still face the U.S. economy, unemployment rates are falling and recovery is taking place.
The Fed made no real mention of a need to roll out a round of quantitative easing, bond purchases from banks designed to jolt the economy, which sent the dollar rising against most other currencies.
The greenback weakens under quantitative easing, as asset purchases from banks designed to steer the economy away from a deflationary cycle flood the economy with dollars.
Shortly afterwards the Fed announced its decision to hold interest rates unchanged, U.S. financial institution JPMorgan Chase declared a quarterly dividend of USD0.30 per share on the bank's common stock, an increase of USD0.05 per share.
JPMorgan Chase also authorized a new USD15 billion equity repurchase program.
The Federal Reserve gave the bank the green light to raise dividends after the bank and several others passed a stress test to demonstrate how well they would hold up under duress.
Banks are required to undergo stress tests, as mandated by the Dodd-Frank financial reform law born in wake of the Lehman Brothers collapse.
Other banks passing stress tests included Bank of America, Wells Fargo, Bank of New York Mellon, Morgan Stanley, PNC Financial, US Bancorp and BB&T.
Also in the U.S. retail sales came in line with expectations, growing 1.1% in February from January.
The euro did not succumb to bearish news at home but was rather eclipsed by events unfolding on the opposite side of the Atlantic.
In Europe, the ZEW Centre for Economic Research revealed its index of German economic sentiment advanced to its highest level since June 2010 in March, climbing to 22.3, outpacing expectations for a reading of 10.5.
Also in Europe, Spain agreed to demands from eurozone finance ministers to slash its budget deficit target for 2012 to 5.3% of gross domestic product instead of its original 5.8% target.
The Bank of Japan, meanwhile, left interest rates unchanged at 1.0%, in line with market expectations.
Meanwhile, the dollar was up against the pound, with
GBP/USD
down 0.04% and trading at 1.5700.
The greenback was up against the yen, with
USD/JPY
trading up 0.17% at 83.08, and up against the Swiss franc, with
USD/CHF
up 0.05% and trading at 0.9236.
The greenback was up against its cousins in Canada, Australia and New Zealand, with
USD/CAD
up 0.04% at 0.9890,
AUD/USD
down 0.17% at 1.0534 and
NZD/USD
down 0.29% at 0.8208.
The dollar index, which tracks the performance of the greenback versus a basket of six other major currencies, was up 0.01% at 80.64.
Later Wednesday, the U.S. will unveil data on the country's current account balance, as well as data on import prices and crude oil stockpiles.
In addition, Federal Reserve Chairman Ben Bernanke is also due to speak, and markets will keep an eye on comments suggesting any changes to monetary policy.