Investing.com - The U.S. dollar traded slightly lower against most of its major rivals during Tuesday's session in what appeared to be listless trade that had the greenback searching for definitive direction.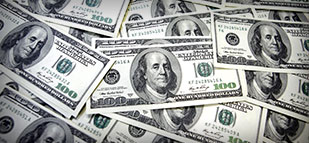 In Asian trading Tuesday,
EUR/USD
inched up 0.03% to 1.3125 after the Ifo index of German business climate improved to 105.9 in June from 105.7 in May, in line with market expectations. Germany is the euro zone's largest economy.
USD/JPY
was flat at 97.75 after the Bank Of Japan said that Japan's corporate services price index rose by a seasonally-adjusted 0.3% last month following a -0.3% reading in April. Analysts had expected Japan's CSPI to rise to 0.1% last month. The April reading was revised up from -0.4%.
GBP/USD
rose 0.08% to 1.5449 after falling to 1.5344 during U.S. morning trade. That was the pair's lowest level in more than two weeks.
USD/CHF
inched down 0.01% to 0.9335.
In U.S. economic news out Monday, the Federal Reserve Bank of Philadelphia said late last week that its manufacturing index rose to 12.5 in June from -5.2 in May, well above expectations for a -2.0 reading.
A separate report showed that U.S. existing home sales climbed 4.2% to 5.18 million units in May from April's total of 4.97 million, far surpassing market calls for a 0.6% increase.
USD/CAD
inched up 0.04% to 1.0506 as the loonie is found flirting with its lowest levels in nearly two years against the greenback, indicating the Canadian currency is being hindered by that country's status as a major commodities producer.
AUD/USD
inched down 0.01% to 0.9249 after Australian Treasurer Wayne Swan said the strong Aussie is still crimping Australian industry.
NZD/USD
fell 0.07% to 0.7749 while the U.S. Dollar Index nudged up 0.02% to 82.65.