Investing.com - The dollar rose against the world's major global currencies on Friday after U.S. industrial production figures fell short of expectations and diminished demand for higher-yielding assets such as stocks.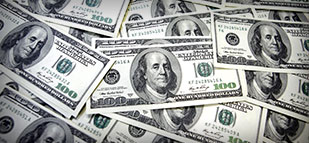 In U.S. trading on Friday,
EUR/USD
was down 0.40% at 1.2730.
U.S. industrial production fell unexpectedly in October, the Federal Reserve reported Friday.
Industrial production fell 0.4% following a gain of 0.2% in September, whose figure was revised down from 0.4%.
Analysts had expected industrial production to rise 0.2% in October, and the disappointment sparked a risk-off trading session that fueled dollar demand.
Superstorm Sandy disrupted business for a good chunk of the northeastern U.S. last month, which reflected in the numbers.
A separate report showed that the U.S. capacity utilization rate declined to 77.8% in October from 78.2% in September, missing expectations for an increase to 78.3%.
Elsewhere in the U.S., lawmakers met with President Barack Obama and expressed optimism afterwards that they will be able to steer the U.S. economy away from the fiscal cliff, a combination of tax hikes and spending cuts due to kick in at the same time early next year.
The nonpartisan Congressional Budget Office and private-sector economists have all forecast the U.S. to fall into a recession if policymakers fail to act and avoid the cliff.
Hopes U.S. policymakers will avert a fiscal disaster sparked some demand for risk though the trend was short lived, which kept dollar demand strong all day.
Meanwhile, the euro and other higher-yielding currencies and asset classes came under pressure on reports that the eurozone's gross domestic product contracted 0.1% in the third quarter, following a contraction of 0.2% in the preceding quarter.
While the economy shrank less than market expectations for a 0.2% contraction, the data confirmed the currency group is in a recession.
The greenback was down against the pound, with
GBP/USD
trading up 0.10% at 1.5881.
The dollar was up against the yen, with
USD/JPY
trading up 0.13% at 81.27 and up against the Swiss franc, with
USD/CHF
trading up 0.45% at 0.9464.
The dollar was mixed against its cousins in Canada, Australia and New Zealand, with
USD/CAD
trading up 0.01% at 1.0011,
AUD/USD
up 0.07% at 1.0339 and
NZD/USD
trading up 0.19% at 0.8108.
The dollar index, which tracks the performance of the greenback versus a basket of six other major currencies, was up 0.28% at 81.31.