Investing.com - The dollar strengthened against most major currencies on Tuesday after data revealed U.S. retail sales expanded for a fourth consecutive month in July and rekindled market expectations for the Federal Reserve to begin tapering stimulus programs later this year.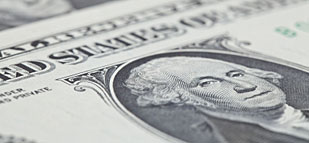 Stimulus tools such as the Fed's USD85 billion monthly bond-buying program weaken the dollar to spur recovery, and talk of their dismantling can strengthen the greenback.
In U.S. trading on Tuesday,
EUR/USD
was down 0.26% at 1.3265.
The Commerce Department reported earlier that retail sales rose by 0.2% in July, slightly below expectations for a 0.3% increase though an expansion nonetheless.
Retail sales figures for June were revised up to a 0.6% gain from a previously reported increase of 0.4%, the U.S. government added.
Core retail sales, which are stripped of automobile sales, rose at their fastest pace in seven months, expanding 0.5% compared to forecasts for a 0.4% gain.
The numbers prompted investors to trade on expectations that the Fed will begin tapering its USD85 billion monthly bond-buying program either in September or in December and wrap up the program in 2014.
The dollar's gains did encounter some speed bumps after Federal Reserve Bank of Atlanta President Dennis Lockhart said the Fed still does not have enough data to decide whether tapering stimulus programs should begin in September though he did say such a decision was possible.
Meanwhile in Europe, the widely followed ZEW index of German economic sentiment rose to a five-month high of 42.0 in August from July's reading of 36.3, outpacing market forecasts for a 40.0 reading.
The index of the current economic situation for Germany rose to a one-year high of 18.7.
Meanwhile, the broader euro zone index of economic sentiment rose to 44.0, the highest since April 2010, from 32.8 in July and well above market calls for a 37.4 reading.
A separate report released earlier revealed that the euro zone's industrial production index rose 0.3% in June from a year earlier, more than expectations for a 0.2% increase.
Still, U.S. retail sales drove the market in early afternoon trading on Tuesday.
The greenback was up against the pound, with
GBP/USD
down 0.06% at 1.5454.
The U.K. consumer price index ticked down to 2.8% on a year-over-year basis from 2.9% in June, according to official data, in line with market expectations.
The dollar was up against the yen, with
USD/JPY
up 1.25% at 98.12, and up against the Swiss franc, with
USD/CHF
trading up 0.75% at 0.9327.
The dollar was up against its cousins in Canada, Australia and New Zealand, with
USD/CAD
up 0.33% at 1.0338,
AUD/USD
down 0.37% at 0.9114 and
NZD/USD
trading down 0.54% at 0.7967.
The dollar index, which tracks the performance of the greenback versus a basket of six other major currencies, was up 0.44% at 81.77.
On Wednesday, the U.S. is to release official data on producer price inflation.