Investing.com - The U.S. dollar traded broadly higher against its major rivals in Tuesday's Asian session amid a deluge of regional data points that sent traders scurrying toward the greenback.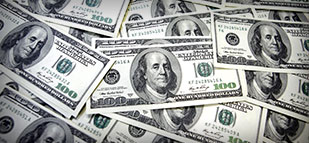 In Asian trading Tuesday,
EUR/USD
inched lower by 0.04% to 1.3096. The pair jumped during Monday's U.S. session after Italy's borrowing costs fell to levels not seen since October of 2010 at an auction of five and 10-year bonds, mainly as confidence in the country grew after a new government was sworn in over the weekend and ended two months of political deadlock.
Italy is the euro zone's third-largest economy behind Germany and France.
USD/JPY
climbed 0.22% to 98 after Japan's Statistics Bureau said the country's unemployment rate fell to 4.1% in March from 4.3% in February. Analysts expected a March reading of 4.3%. In a separate report, the Statistics Bureau said Japanese household spending climbed 5.2% in March following a 0.8% gain in February. Analysts expected a 1.8% increase.
Japan's Ministry of Economy, Trade and Industry said industrial production there rose 0.2% in March after a 0.6% increase in the prior month. Economists expected a 0.4% increase.
In another report, the Ministry of Economy Trade and Industry said retail sales fell 0.3% in March from a year earlier. Analysts expected a 0.6% increase.
GBP/USD
fell 0.08% to 1.5490 after GfK NOP's consumer confidence index fell to -27 this month from -26 last month. Economists expected an unchanged reading.
USD/CHF
rose 0.10% to 0.9376 while
USD/CAD
inched up 0.04% to 1.0121. In U.S. economic news, the Commerce Department said personal incomes and spending each rose 0.2% in March. Economists expected the March reading of personal spending would be unchanged, but they expected a 0.4% increase in personal income.
The National Association of Realtors said its pending home sales index rose 1.5% to 105.7 last month, good for the highest reading in nearly three years. Signed contracts jumped 7% on a year-over-year basis. The U.S. is the world's largest oil consumer.
AUD/USD
nudged lower by 0.03% to 1.0350.
NZD/USD
fell 0.20% to 0.8551 after Statistics New Zealand said that New Zealand building consents dropped 9.1%.
The U.S. Dollar Index rose 0.12% to 82.26.