Investing.com - The Australian dollar edged higher after a mixed data set on Tuesday and in partial reaction to muted inflation in to trading partner China.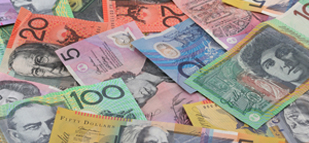 AUD/USD held at 0.9356, up 0.01%, while USD/JPY traded at 102.40, down 0.13%.
China CPI in May rose 2.5% year-on-year and PPI fell 1.4%.for May. The previous month saw at 1.8% rise for the CPI, and a 2.0% fall for PPI. Though the May figures were higher, the market sees them as well within range and a blip driven by higher pork prices on seasonal demand.
In Australia, the NAB Business Survey for May showed the conditions index down 1, from flat in April, with confidence at plus 7.
Australian housing finance data for April was flat,, with the market expecting a small rise of 0.2% month-on-month after a surprise -0.9% drop in March. ANZ Job Ads posted the bigegst fall in two years, down 5.6%.
Japan's M3 Money supply rose 3.3% year-on-year, while the tertiary industry index for April fell 5.4%.
Overnight, the dollar traded higher against most major currencies on after yield differentials between U.S. and European debt widened due to diverging monetary policy paths on both sides of the Atlantic.
The European Central Bank's recent decision to loosen policy coupled with expectations for the Federal Reserve to wind down stimulus programs this year reflected in bond markets on Monday, which weakened the euro and fueled widespread demand for the dollar.
Elsewhere, data on Monday showed that euro zone investor confidence deteriorated unexpectedly in June despite the ECB's new measures to support growth and inflation.
The Sentix investor confidence index fell to 8.5 this month from 12.8 in May, confounding expectations for a jump to 13.2.
The dollar, meanwhile, continued to see support on solid U.S. unemployment data.
On Friday, the U.S. Labor Department reported that the economy added 217,000 in May, close to expectations for a 218,000 increase, after a 282,000 rise in April, whose figure was revised down from a previously estimated 288,000 gain.
The US Dollar Index, which tracks the performance of the greenback versus a basket of six other major currencies, was down 0.03% at 80.63.