Investing.com - The U.S. dollar remained mixed against the other major currencies on Friday, after the release of upbeat U.S. data added to expectations for a near-term end to the Federal Reserve's bond buying program, still lending some support to the greenback.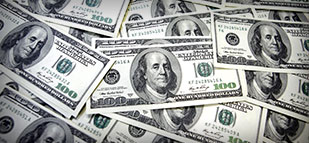 During U.S. morning trade, the dollar was steady against the euro, with
EUR/USD
easing up 0.06% to 1.2941.
The euro gained ground after the Ifo Institute said its German business climate index rose to 105.7 in May, from a reading of 104.4 the previous month, beating expectations for an increase to 104.5.
The report came after data showed that the Gfk German consumer climate index rose unexpectedly in May, ticking up to 6.5 from a reading of 6.2 the previous month. Analysts had expected the index to remain unchanged this month.
The greenback was lower against the pound, with
GBP/USD
adding 0.18% to 1.5136.
In a report, the British Bankers' Association said mortgage approvals rose by 32,200 in April, less than the expected 32,700 increase, after a 31,400 rise the previous month.
Elsewhere, the greenback was lower against the yen and the Swiss franc, with
USD/JPY
tumbling 0.86% to trade at 101.15, and with
USD/CHF
retreating 0.83% to 0.9607.
The greenback was higher against its Canadian, Australian and New Zealand counterparts, with
USD/CAD
gaining 0.33% to 1.0336,
AUD/USD
shedding 0.78% to 0.9671 and
NZD/USD
dropping 0.57% to 0.8087.
Earlier Friday, official data showed that New Zealand's trade surplus narrowed far more-than-expected in April, falling to NZD157 million, from a surplus of NZD718 million the previous month.
Analysts had expected the trade surplus to narrow to NZD475 million last month.
The dollar index, which tracks the performance of the greenback versus a basket of six other major currencies, was down 0.15% to 83.66.
In the U.S., official data showed that core durable goods orders rose 1.3% in April, beating expectations for a 0.5% increase, after a 1.7% decline the previous month.
Durable goods orders, including transportation items, rose 3.3% last month, more than the expected 1.5% increase, after a 5.9% fall in March.
The data came after Fed Chairman Ben Bernanke said on Wednesday that the bank could begin tapering its bond-buying program.
In testimony to the U.S. Joint Economic Committee, Fed Chairman Bernanke said a decision to scale back the Fed's asset purchase program could be taken in the "next few meetings" if economic data continued to improve.