Investing.com - The dollar was lower against the euro on Wednesday as concerns over Syria eased, boosting risk appetite, while the pound was trading close to seven-month highs after unexpectedly strong U.K. jobs data.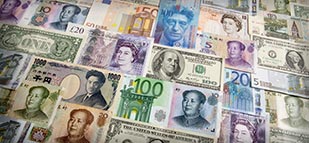 During U.S. morning trade, the euro hit session highs against the dollar, with
EUR/USD
rising 0.19% to 1.3292.
Investor sentiment was boosted after the White House confirmed that President Obama is in talks with France and Britain about getting a United Nations resolution to hold Syria to its apparent commitment to place its chemical weapons under international control.
President Obama said he would put plans for a military strike against Syria on hold if the country agrees to relinquish its chemical weapons stockpile.
Risk appetite was also underpinned after a recent string of upbeat economic data from China indicated that the world's second largest economy is recovering from a slowdown.
The pound was trading close to its highest level since February against the dollar, with
GBP/USD
up 47% to 1.5805.
Sterling strengthened after official data showed that the rate of unemployment in the U.K. ticked down to 7.7% in the three months to July from 7.8% in the previous three months.
Economists had expected the unemployment rate to remain unchanged.
The data fuelled expectations that the Bank of England may raise interest rates sooner than it has indicated.
Last month, the BoE pledged to keep interest rates on hold at current record low levels until the unemployment rate falls below 7%, something that bank does not see for another three years.
The number of people claiming unemployment benefits in the U.K. fell by 32,600 in August, better than expectations for a decline of 22,000 people.
The dollar slipped lower against the yen but remained supported close to two-month highs, with
USD/JPY
down 0.36% to 100.01.
The dollar was also weaker against the Swiss franc, with
USD/CHF
sliding 0.39% to 0.9312.
Elsewhere, the greenback was mixed against its Australian, New Zealand and Canadian counterparts, with
AUD/USD
dipping 0.04% to 0.9309,
NZD/USD
inching up 0.03% to 0.8069 and
USD/CAD
slipping 0.08% to 1.0340.
The dollar index, which tracks the performance of the greenback versus a basket of six other major currencies, was down 0.25% to 81.61.