Investing.com - The dollar turned higher against the euro on Monday as Spanish bond yields edged up and hit fresh two-and-a-half year highs against the yen as expectations for further easing measures by the Bank of Japan continued to weigh on the yen.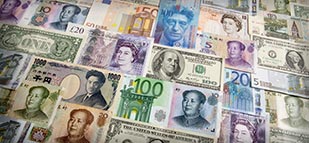 During European morning trade, the greenback pulled away from 14-month lows against the euro, with
EUR/USD
down 0.41% to 1.3586.
The euro came under pressure as Spanish Prime Minister Mariano Rajoy faced calls to resign, following corruption allegations against him and senior officials in the ruling Popular Party.
The yield on Spanish 10-year bonds rose to 5.34% on Monday from 5.21% on Friday, as investor concerns over the deepening political crisis mounted.
Sentiment on the single currency was also hit after French Finance Minister Pierre Moscovici warned that the euro was too strong following its recent rally.
The euro hit 14-month highs against the dollar on Friday after data showed that manufacturing activity in the euro zone improved in January, while inflation and unemployment stabilized, underlining the view that the crisis in the region has turned a corner.
The dollar hit fresh two-and-a-half-year highs against the yen, with
USD/JPY
climbing 0.32% to 93.06.
The yen remained broadly weaker amid expectations that Japanese Prime Minister Shinzo Abe would keep pressure on the BoJ to step up easing measures.
The dollar rallied against the yen on Friday after official data showed that U.S. employment grew modestly last month but job creation in the previous two months was larger than initially reported.
The greenback was slightly lower against the pound, with
GBP/USD
rising 0.15% to 1.5720, but pushed higher against the Swiss franc, with
USD/CHF
up 0.28% to 0.9109.
In the U.K., a report showed that the construction purchasing managers' index held steady at a 48.7 in January, unchanged from December's reading, disappointing expectations for an improvement to 49.1.
The greenback was little changed against its Canadian, Australian and New Zealand counterparts, with
USD/CAD
dipping 0.02% to 0.9962,
AUD/USD
inching up 0.08% to 1.0416 and
NZD/USD
edging down 0.01% to 0.8452%.
Earlier Monday, official data showed that building approvals in Australia dropped 4.4% in December, disappointing expectations for a 1% rise.
The dollar index, which tracks the performance of the greenback versus a basket of six other major currencies, was up 0.26% to 79.42.
The U.S. was to release official data on factory orders later in the trading day.