Investing.com - The U.S. dollar was broadly higher against the other major currencies on Monday, as markets were jittery amid uncertainty over whether European leaders will agree on a financial aid deal for Greece.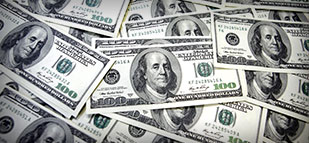 During European morning trade, the dollar was higher against the euro, with
EUR/USD
falling 0.11% to 1.2960.
Investors remained cautious ahead of a meeting of euro zone finance ministers later in the day to discuss whether to release Greece's next tranche of aid.
German Chancellor Angela Merkel said she believes a deal can be reached at Monday's talks, while the French finance minister said over the weekend that an agreement is close.
Sentiment also came under pressure after Spain's main separatist party, the Convergence and Union alliance (CiU), led by Catalonian President Artur Mas, lost seats in the elections as voters expressed their frustration at his party's introduction of austerity measures.
As a result, two-thirds of the 135-seat local parliament went to four different Catalan separatist parties.
The greenback was also higher against the pound, with
GBP/USD
edging down 0.14% to 1.6007.
Elsewhere, the greenback was lower against the yen, with
USD/JPY
dropping 0.38% to trade at 82.08, but edged higher against the Swiss franc, with
USD/CHF
adding 0.12% to 0.9292.
Earlier in the day, the minutes of the Bank of Japan's October policy meeting showed that the central bank is intent on continuing with easing measures until the inflation target of 1% is at least in sight.
The BoJ also said the Japanese economy continued to face a high degree of uncertainty as a result of the ongoing debt crisis in the euro zone.
In Switzerland, official data showed that the number of employed people rose to 4.12 million in the third quarter from 4.07 million in the previous quarter, beating expectations for a rise to 4.09 million.
The greenback was higher against its Canadian, Australian and New Zealand counterparts, with
USD/CAD
easing up 0.08% to 0.9936,
AUD/USD
slipping 0.19% to 1.0440 and
NZD/USD
falling 0.13% to 0.8224.
The dollar index, which tracks the performance of the greenback versus a basket of six other major currencies, was up 0.06% to 80.27.
Later in the day, Germany was to release data on German consumer climate.