Investing.com - Oil futures traded higher in the early part of Monday's on news that a report to be released this week will show China will pass the U.S. as the world's largest importer of crude within the next several years.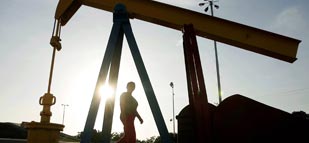 On the New York Mercantile Exchange, light, sweet crude futures for October delivery rose 0.67% to USD107.13 per barrel in Asian trading Monday. The October contract settled higher by 1.32% last Friday.
Oil futures were likely to find support at USD103.56 a barrel, the low from August 22 and near-term resistance at USD107.53 a barrel, the high from August 19.
Oil gained Friday despite some disappointing U.S. economic data. In U.S. economic news out last Friday, the Commerce Department said new home sales dropped 13.4% last month to an annual rate of 394,000 units. That is the lowest reading in nine months. In July, the median price for a new home sale rose to $257,200, up from $237,400 in the same month of 2012, according to Reuters.
That data point along with a few others out earlier in the week stoked speculation that the Federal Reserve may not immediately move to taper its USD85 billion-per-month bond-buying program. Minutes from the Fed's July policy meeting published last week showed most members agree with tapering at some point this year.
According to a report released this week by Wood Mackenzie, China will pass the U.S. as the world's largest oil importer by 2017, CNBC reported. The combination of increased Chinese demand and the U.S. shale boom, which has allowed the world's largest economy to increase oil production to multi-decade highs, will allow China to become the biggest oil importer in the world.
China's price tag for oil imports will double to nearly $500 billion by 2020, CNBC reported, citing the Wood Mackenzie report.
Elsewhere, Brent for October delivery rose 0.24% to USD111.33 per barrel on the ICE Futures Exchange.