Investing.com - Oil futures inched higher in the early stages of Monday's Asian session ahead of what has the potential to be a big week for crude with looming earnings and economic reports to come out of the U.S.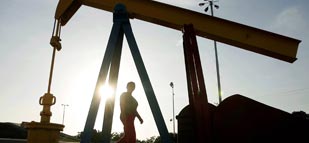 On the New York Mercantile Exchange, light, sweet crude futures for March delivery added 0.11% to USD95.99 per barrel in Asian trading Monday. Last week, crude slumped 0.8%, posting its first weekly loss in seven weeks.
Oil prices were lifted a bit on Monday after the Chinese Academy of Social Sciences, a government think tank, said it expects the world's second-largest economy to grow 8.4% this year. That is well ahead of the rate of 7.5% traders have wanted the government to reiterate.
The think tank sees Chinese exports rising 8.3% in 2013 with overall traded increasing 8.5%. China is the world's second-largest oil consumer behind the U.S.
Speaking of the U.S., it could be that country that again looms large in the oil pits this week. Regarding oil equities, Exxon Mobil and Chevron, the two largest U.S. oil companies, report fourth-quarter earnings on Friday. ConocoPhillips and Occidental Petroleum deliver their fourth-quarter results earlier in the week.
Additionally, the U.S. Commerce Department delivers its reading of fourth-quarter GDP on Wednesday while the Labor Department is scheduled to unveil the January jobs report and unemployment number on Friday. Both reports could have a significant near-term impact on oil prices because traders often view the U.S. economy as major driver of oil demand and prices.
Elsewhere, a state of emergency has been declared in Egypt after 50 people died in riots there amid increasing political upheaval. Egyptian armed forces have been deployed towns with ports leading to the Suez Canal, a major traveling point for Middle East oil exports.
That news may be weighing on Brent futures, which are lower by 0.16% at USD113.28 on the ICE Futures Exchange.