Investing.com - Natural gas futures extended Tuesday's losses into Wednesday on forecasts for warmer-than-normal temperatures to hold for much of the lower 48 U.S. states.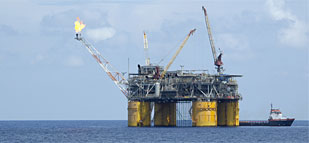 Rising supplies pushed prices to lows not seen since September.
On the New York Mercantile Exchange, natural gas futures for delivery in February traded at USD3.116 per million British thermal units, down 3.15%.
The commodity hit a session low of USD3.087 and a high of USD3.227.
The U.S. National Weather Service predicted above-normal temperatures for most of the eastern third of the country for a ten-day period, while weather service provider MDA Weather Services issued an 11-to-15-day outlook calling for mostly normal readings across the U.S., with above-normal temperatures forecast for the eastern half of the country.
The news sent natural gas prices falling, as previous reports have consistently called for warm temperatures as well.
Natural gas futures are very sensitive to weather reports in the U.S. winter.
The U.S. heating season running from November through March sees peak demand for gas.
About half of U.S. households use gas for heating purposes, according to Energy Department data.
High inventory levels pushed prices down as well.
The U.S. Energy Information Administration reported on Monday that gross U.S. gas production in October rose to 73.54 billion cubic feet per day, the second consecutive monthly record high.
Total U.S. natural gas storage stood at 3.517 trillion cubic feet as of last week, 0.7% higher than last year's level and 12.4% above the five-year average for this time of year.
Early withdrawal estimates for this Thursday's storage data range from 155 billion cubic feet to 176 billion cubic feet.
Inventories fell by 137 billion cubic feet in the same week a year earlier, while the five-year average change for the week is a decline of 165 billion cubic feet.
Elsewhere on the NYMEX, light sweet crude oil futures for delivery in February were down 0.03% and trading at USD93.12 a barrel, while heating oil for February delivery were up 0.21% and trading at USD3.0648 per gallon.