Investing.com - Natural gas futures rose sharply on Monday, as forecasts for warmer weather across key parts of the U.S. boosted near-term demand expectations for the fuel.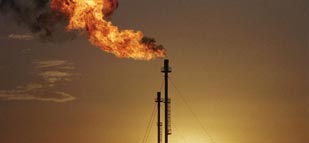 On the New York Mercantile Exchange, natural gas futures for delivery in July traded at USD3.841 per million British thermal units during U.S. morning trade, up 2.8% on the day.
It earlier rose by as much as 3.1% to hit a session high of USD3.849 per million British thermal units, the strongest level since June 13.
Natural gas futures received a lift from warmer weather forecasts expected across most parts of the U.S. in the coming week.
The National Weather Service's six-to-ten-day outlook issued on Sunday called for above-normal readings for much of the U.S., with normal temperatures across the Great Plains and in the South.
Demand for natural gas tends to rise in the summer months as warmer-than-normal temperatures increase the need for gas-fired electricity to power air conditioning.
Natural gas accounts for about a quarter of U.S. electricity generation.
Meanwhile, traders also focused on U.S. supply levels. Total U.S. natural gas storage stood 2.347 trillion cubic feet as of last week, 2% below the five-year average for this time of year.
Early injection estimates for this week's storage data range from 83 billion cubic feet to 95 billion cubic feet, compared to a 63 billion cubic feet increase during the same week a year earlier.
The five-year average for the week is a build of 80 billion cubic feet.
Natural gas traders also monitored a storm system in the Gulf of Mexico.
The U.S. National Hurricane Center said there was a 40% chance of a tropical cyclone forming in the Gulf of Mexico within the next 48 hours.
Energy traders track tropical weather in the event it disrupts production in the Gulf of Mexico and prices typically spike when storms threaten production.
Elsewhere on the NYMEX, light sweet crude oil futures for delivery in August was little changed to trade at USD98.05 a barrel, while heating oil for July delivery eased up 0.1% to trade at USD2.964 per gallon.