Investing.com - Natural gas traded lower Thursday as investors took profits from Wednesday's spike higher on the spring cold snap..
On the New York Mercantile Exchange, natural gas futures for delivery in June traded at USD2.127 per million British thermal units during U.S. afternoon trade, falling 2.00%.
On Wednesday, Natural gas was pushed higher as weather forecasts across the U.S. continued to call for unseasonably cold spring conditions.
Prices surged by more than 4% on Monday, after a late-season storm brought heavy rain and even snow to certain areas of the East Coast.
The harsh weather was expected to persist, with the National Weather Service calling for heavy snow through Tuesday in western New York, west-central Pennsylvania and northeast West Virginia.
However, prices resumed their downward trend on Tuesday, as investors grew skeptical that the late-season winter storm will put a dent in record-high U.S. supplies.
Weekly storage data from the U.S. released last week showed that natural gas storage in the U.S. rose by 25 billion cubic feet last week, the fifth consecutive seasonal injection of natural gas for the year.
Total U.S. natural gas storage stood at 2.512 trillion cubic feet as of last week, a record high for this time of year and almost 58% higher than the five-year average for this time of year.
Early injection estimates for Thursday's storage data range from 35 billion cubic feet to 75 billion cubic feet, compared to last year's build of 35 billion cubic feet. The five-year average change for the week is an increase of 47 billion cubic feet.
Current inventories are at levels they didn't reach last year until the end of June. Concerns are growing over whether enough capacity exists to store the fuel.
If weekly stock builds through October match the five-year average, inventories would top out at 4.594 trillion cubic feet, 12% over peak capacity estimates of about 4.1 trillion cubic feet.
Market analysts expect the downtrend to continue, with some traders expecting futures to fall to USD1.850 in the short-term.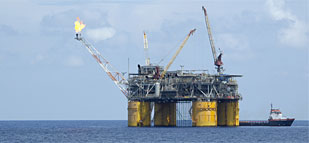 Prices fell to USD1.902 per million British thermal units last Friday, the lowest since September 26, 2001.
Natural gas prices have plunged almost 25% since the beginning of March and are down nearly 35% since the start of 2012.
However, gas futures for delivery this fall are trading at a record premium.
October delivery futures are at an all time high of USD0.48 per million BTU and Goldman Sachs stated that prices may rebound as production slows and cold weather returns this fall in the United States.
Elsewhere on the NYMEX, light sweet crude oil futures for delivery in June climbed 0.49% to trade at USD104.06 a barrel.