Investing.com - Natural gas futures fell on Thursday after a powerful winter storm that ploughed across the Midwest and through the northeastern U.S. began to ease, with forecasts for warmer weather on the way.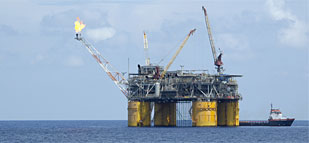 On the New York Mercantile Exchange, natural gas futures for delivery in February traded at USD3.410 per million British thermal units, down 0.42%.
The winter storm that gripped much of the U.S. in recent days began to dissipate by midweek, with some investors worried the storm may not have pushed down temperatures long enough to significantly boost demand for natural gas, which is used to heat households and businesses.
Meanwhile forecasts for warmer temperatures sent investors selling the commodity as well.
Weather service provider MDA Weather said earlier that it expected temperatures for most of the U.S. to a warm up within the next two weeks.
The heating season from November through March sees peak demand for U.S. gas.
About half of U.S. households use gas for heating purposes, according to Energy Department data.
Elsewhere on the NYMEX, light sweet crude oil futures for delivery in February were down 0.10% and trading at USD90.89 a barrel, while heating oil for February delivery were up 0.44% and trading at USD3.0490 per gallon.