Investing.com - Gold futures rose in the early part of Tuesday's Asian session as traders again appeared to be doing some bargain-hunting following another down day of the yellow metal in U.S. trade Monday.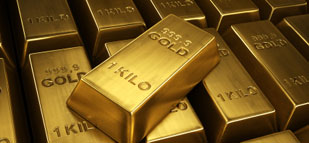 On the Comex division of the New York Mercantile Exchange, gold futures for August delivery rose 0.43% to USD1,282.45 per troy ounce in Asian trading Tuesday after settling down 0.31% at USD1,288.05 a troy ounce in U.S. trading on Monday.
Gold futures were likely to find support at USD1,268.75 a troy ounce, Friday's low, and resistance at USD1,391.35, last Monday's high.
Traders continue to take gold to task after Federal Reserve Chairman Ben Bernanke said last week that monetary stimulus measures may taper this year and possibly end next year if the economy improves. The end of U.S. quantitative easing is expected to be supportive of the U.S. dollar, which has an inverse relationship to gold.
In U.S. economic news out Monday, the Federal Reserve Bank of Philadelphia said late last week that its manufacturing index rose to 12.5 in June from -5.2 in May, well above expectations for a -2.0 reading.
A separate report showed that U.S. existing home sales climbed 4.2% to 5.18 million units in May from April's total of 4.97 million, far surpassing market calls for a 0.6% increase.
As has been previously noted, the better U.S. economic is, the more room the Fed has to pare its USD85 billion-a-month easing program. That would turn a good news scenario into a bad one for gold and other metals.
Elsewhere, Comex silver for July delivery rose 0.68% to USD19.655 per ounce while copper for July delivery fell 0.42% to USD3.026 per ounce.