Investing.com – Gold futures are trading slightly higher in the early part of Wednesday's Asian despite French bank Societe Generale offering up a dismal outlook for the yellow metal on Tuesday.
On the Comex division of the New York Mercantile Exchange, gold futures for June delivery are up 0.03% at USD1,577.05 per troy ounce in Asian trading Wednesday. Bullion settled down 1.51% at USD1,576.65 a troy ounce in U.S. trading on Tuesday.
Gold futures were likely to test support USD1,560.60 a troy ounce, the low from March 8, and resistance at USD1,608.85, Wednesday's high.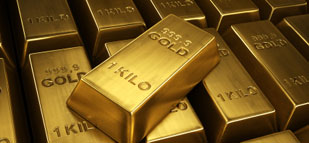 On Tuesday, Soc Gen said the gold price is in "bubble territory." The bank's worst case scenario for 2013 is a tumble to USD1,375 per ounce, about 13% below current levels.
"Investors have pushed the gold price sharply higher over the past 10 years with the past five-year rally driven by fears that aggressive central bank QE would lead to very high inflation. But inflation has so far stayed low (US inflation has been trending lower since late 2011) and now we are beginning to see: 1) the economic conditions that would justify an end to the Fed's QE; 2) fiscal stabilisation that has passed its inflection point; and 3) a US dollar that has begun trending higher. It seems unlikely that investors would want to add much to their long gold positions in this context," the bank said in a research note.
Gold was also hurt by another day of soaring U.S. equities as the S&P 500 pushed to yet another record high and the Dow Jones Industrial Average spent much of the day higher by 100 points more before settling up 89 points.
One data point helped the cause for riskier assets while hampering gold. In U.S. economic news, the Commerce Department said orders for manufactured goods increased 3% in February. Economists expected a 2.9% increase. Orders from the civilian aircraft business helped drive the February number higher.
Meanwhile, Comex silver for May delivery fell 0.27% to USD27.173 per ounce while copper for rose 0.07% to USD3.374 per ounce.