Investing.com - Gold futures plunged into bear market territory on Friday, closing at the lowest level in 21 months as a bout of technical selling set in after prices broke below key support levels.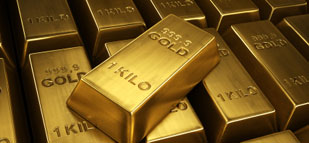 Sentiment on the precious metal was dampened after minutes from the Federal Reserve's most recent policy-setting meeting released earlier in the week showed the central bank is considering ending its bond-buying program sooner-than-expected.
Moves in the gold price this year have largely tracked shifting expectations as to whether the U.S. central bank could bring quantitative easing, one of the biggest boosts to gold's bull run, to an end this year.
On the Comex division of the New York Mercantile Exchange, gold futures for June delivery plummeted 5.25% on Friday to settle the week at USD1,482.65 a troy ounce.
Earlier in the session, Comex gold fell to USD1,481.45 a troy ounce, the weakest level since July 1, 2011. On the week, gold futures lost 6.2%, the biggest weekly decline since December 2011.
Gold prices were likely to find near-term support at USD1,478.05 a troy ounce, the low from July 1, 2011 and resistance at USD1,516.80, the high from July 5, 2011.
Gold's losses accelerated sharply after prices broke below key support levels close to the USD1,535 and then the USD1,520-level, triggering a flurry of automatic sell orders amid bearish chart signals.
Prices of the precious metal are down nearly 23% since hitting an all-time high of USD1,920.80 an ounce in September 2011, meeting the standard for a bear market.
Market analysts have warned that gold prices could fall to as low as USD1,434.15 a troy ounce in the near-term, it's 200-week moving average.
Gold prices came under pressure on Wednesday after minutes from the Fed's March policy meeting showed that a number of FOMC participants saw QE tapering around midyear, while others believed it would probably be appropriate to slow purchases later in the year and to stop them by year-end.
One member wanted to slow the bond purchases immediately, while two members indicated that the purchases might well continue at the current pace at least through the end of the year.
News that Cyprus was to sell "the excess amount of gold" it owned to raise an estimated EUR400 million for its bailout also weighed on sentiment.
Cyprus had 13.9 metric tons of gold, valued at USD532 million, as of March 31, according to data from the World Gold Council.
Prices came under additional pressure after Goldman Sachs slashed its three-month gold price forecast to USD1,530 per ounce from a previous estimate of USD1,615 per ounce.
The investment bank also lowered its 12-month price forecast to USD1,390 from USD1,550, citing the weakening safe haven appeal of the precious metal.
In the coming week, the U.S. is to publish a broad range of economic data, with reports on manufacturing activity, the housing sector and inflation due for release.
Investors will be closely watching this data as they attempt to gauge the strength of the U.S. recovery. Any improvement in the U.S. economy could scale back expectations for further easing.
On Friday, data showed that U.S. retail sales fell 0.4% in March, the largest decline in nine months and missing expectations for a 0.1% increase.
A separate report showed that the preliminary reading of the University of Michigan's consumer sentiment index fell to 72.3 in April, the lowest level since July, from a final reading of 78.6 in March.
Elsewhere on the Comex, silver for May delivery plunged 6.4% on Friday to settle the week at USD25.91 a troy ounce. Silver future prices lost 4.95% on the week, the fifth consecutive weekly decline.
Comex silver fell to USD25.86 a troy ounce earlier in the session, the lowest since November 18, 2010.
Silver has been on the decline given "weak industrial demand and mixed investor interest," analysts at Barclays wrote in a research note last week.
Meanwhile, copper for May delivery tumbled 2.9% on Friday to close the week at USD3.334 a pound. On the week, Comex copper prices retreated 0.3%.
Copper traders will be looking ahead to flurry of Chinese economic reports due this week to gauge the strength of the world's second largest economy and the largest consumer of the industrial metal.
China is to release official data on first quarter gross domestic product on Monday. Beijing is also to release government data on retail sales, industrial production and fixed asset investment.